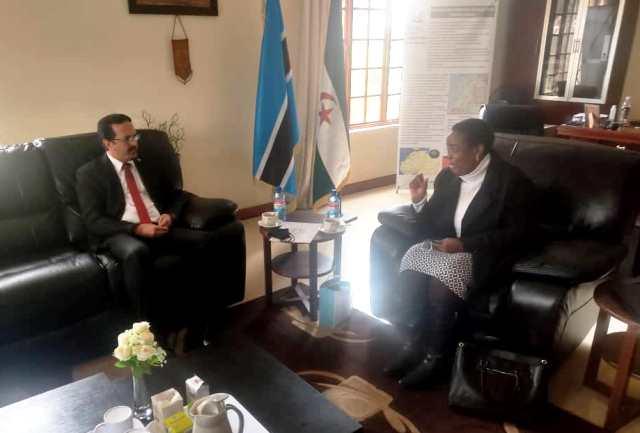 Africa-Press – Botswana. The Secretary General of Botswana People's Party (BPP), Mrs Nono Kgafela-Mokoka, reaffirmed her party's firm stand in solidarity with the legitimate right of the people of Western Sahara to freedom and independence, during her visit Today to the Saharawi Embassy in Gaborone.
Mrs Kgafela-Mokoka, who was received at the Embassy by Saharawi Ambassador to Botswana, H.E. Mr. Malainin Mohamed, conveyed a personal message from the President of the BPP, Mr. Motlatsi Molapisi, in which he stressed "BPP's firm support to the total independence and freedom of Western Sahara," she said.
She added that "Morocco, the occupying force, must understand that we cannot, as advocates of pan Africanist principles, accept the persistence of the illegal occupation of an African country by another sister African Country. This occupation should simply end, now."
On his side the Saharawi Ambassador thanked his guest for the visit and expressed the gratitude of the Saharawi Republic to the Government and people of Botswana for the principled position their country have always granted the Saharawi Republic for decades.
He also thanked BPP for "the historical and principled position," and recalled that "support to the Saharawi people's legitimate struggle for freedom is indeed a Pan Africanist duty for all Africans, and should not be considered as the responsibility of governments' alone."
"The Saharawi legitimate struggle for freedom and independence is a struggle for a fundamental human and peoples' right that all peoples should normally support and identify with regardless their nationalities, political affiliation or any other reason," Ambassador Malainin said.
The two parties exchanged views on the best ways to develop and support stronger pan Africanist relations among African nations in order to contribute to the realization of the African Union's agenda in the whole continent.
The Botswana People's Party, was formed in December 1960 during the colonial era to become the first mass party to push for full independence of the country. It is a social democratic and Pan Africanist party, and is now a member of the main opposition coalition, the Umbrella for Democratic Change (UDC).
For More News And Analysis About Botswana Follow Africa-Press