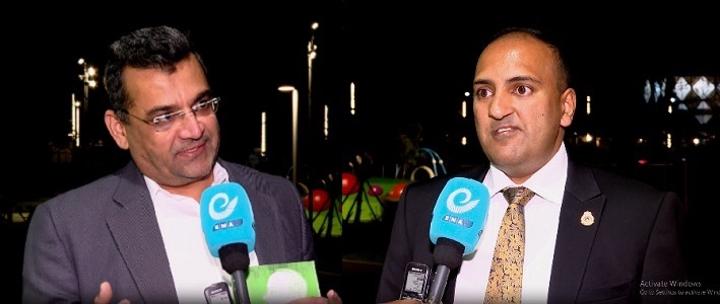 Africa-Press – Ethiopia. The recent book of Prime Minister Abiy Ahmed, "Generation Medemer," will drive a lot of Pan-Africanism and instill confidence in not only Ethiopia but also Africa, Indian businessmen told ENA.
The English version of the book was introduced to the international community residing in Addis Ababa on Thursday.
One the Indian business persons approached by ENA during the launching, Ethiopian Steel PLC General Manager Bhavesh Chandaria said the premier's book emphasizes a homegrown Ethiopian and African wisdom.
"I see this book driving a lot of Pan-Africanism confidence. Basically, what we need is first conviction and confidence within ourselves. Look, Africa doesn't need to read outside books. We need to create content here since we have enough wisdom."
According to Chandaria, who claims to have lived in many African countries and developed a Pan-Africanism spirit, the book will instill confidence not only in Ethiopia but Africa. It leads to the African mind set and will proliferate beyond that.
"So what Africa needs a bit from my experience of so many countries is a homegrown African wisdom," he stressed.
Beyond this, the business person pointed out that the prime minister in his book attempts to bring together the Ethiopian generation through his accommodationist view.
Mohan Group of Companies CEO, Harsh Kothari said the book is deliberation on how Ethiopia is positioned globally.
"This is a deliberation on how Ethiopia is positioned in Africa, in the Middle East, and globally in general; and how the coming generation needs to work, needs to think and needs to unify in order to strengthen Ethiopian position globally. And it also emphasizes how each one of us have to do our own bit."
Apart from his previous books, this newest book of the prime minister takes a different stage at a more advanced age which is talking about the millennial generation to put Ethiopia in a position at a global stage, he added.
At the same time, Kothari noted that the book also puts a lot of emphasis on how Ethiopia could become a powerhouse in the world, which is a paradigm shift.
"It's setting a tone for the future, and for Ethiopia to be a superpower. And it's a very visionary text, which the coming generations understand, read and have an opinion, have a perspective and work on."
According to Kaushal Sheth of Indian Business Forum Ethiopia, Prime Minister Abiy has taken the initiative to write this book which aims at showing a generational description and enabling the current generation to learn a lot.
"First of all, Ethiopia is a country which boasts of history dating back to 3,000 years or probably even 5,000 years. So, Ethiopia is a country which has a lot of history and tradition. And I'm sure that the current generation as well will pick up a lot of things from the past."
Sheth added that the book gives a road map on how the Ethiopian current generation learns from mistakes and tries to improvise on their future.
"Generation Medemer" is a wonderful initiative by the prime minister, he stated, stressing the need to spread the word the proceeds of which is also going to a very noble cause.
"So it becomes our moral responsibility to promote the book, spread the word and ensure that more and more people get involved with the reading of the book. First of all, Medemer is a wonderful thought; and also because the proceeds also go for a noble cause that becomes our double duty to promote."
Most certainly, the Medemer thought can be applicable globally beyond Ethiopia and Africa due to its inclusiveness, Sheth underscored.
Deputy Convener of Indian Business Forum, Rajeev Kumar Sharma also believes that Medemer's principles are universal and will not serve only Ethiopia.
The book can play a big role and it can give guidance to other regional people like the African community, he added.
"Generation Medemer," the latest series of Prime Minister's book, is published in Amharic, Afan Oromo, and English languages.
For More News And Analysis About Ethiopia Follow Africa-Press