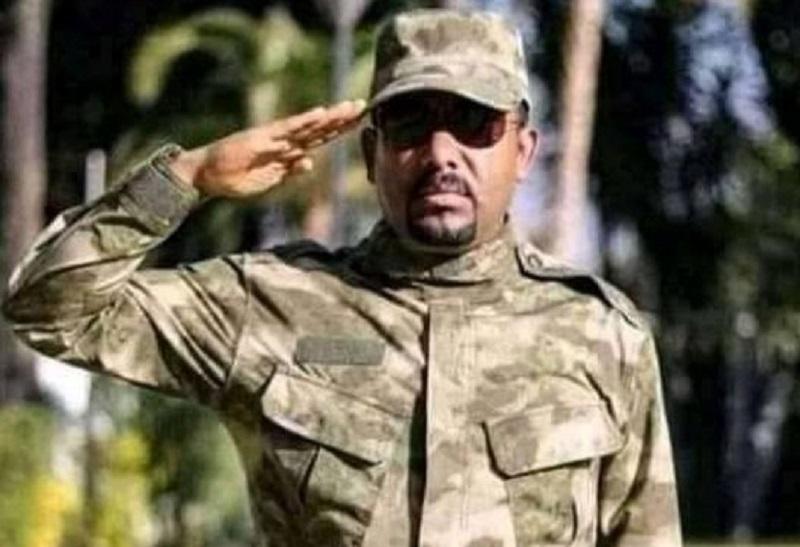 Africa-Press – Ethiopia. Prime Minister Abiy Ahmed called on all black people to stand with Ethiopia with the spirit of Pan Africanism for the sake of the dignity and sovereignty of the black people.
"We are historically obliged to defend the name "Ethiopia" which is symbol of Freedom! Abiy said in a statement.
Ethiopia is an intriguing country whose future is greater than yesterday. It is an ordeal for the country to pass through various sufferings, Abiy said.
He said " We are now in the final stages of saving Ethiopia. Our enemies from inside and outside have come coordinated to attack us. On the one hand, our historical enemies who don't wish to see Ethiopia growing by its own and in its own way have plotted against us for our downfall."
"If Ethiopia rises and wins in an African way, it will never be the same again," Abiy said however, he added "our enemies have been using all sorts of evil means to obstruct this African way."
Furthermore, Abiy said our external and internal enemies have set out to build their strength against Ethiopia's weakness. Ethiopia's interest is to carry on along with them, not to abandon. "It is in this regard that our foreign policy is regional based with priority to our neighbors."
According to the PM, the war waged against Ethiopia is part of the campaign being carried out to deny black people an exemplary of freedom and triumphant.
"It is a deliberate attempt to undermine black people so that we will not have our own history, culture, identity and dignity," he underscored.
Hence, this struggle is also the struggle of all black people as it is a conspiracy to humiliate all black people and impose the new form of colonialism by kneeling down Ethiopia, the premier underlined.
"In the spirit of Pan-Africanism, I call on all black people to stand with Ethiopia for the sake of the dignity and sovereignty of black people."
Moreover, he stated that "this is the struggle of all Ethiopians. It is a struggle for our children to have a country. It is a struggle for our children to rise up and walk proudly around the world, with dignity and freedom."
The Prime Minister said it is time to lead the country with sacrifice and vowed to lead army from the battlefront as of today.
"All of you who aspire to be one of Ethiopia's most admired children, stand up for your country today. Let's meet at the battlefield front. As we march to the battle the remaining will cover the gap created by us and work in all their capacity," he underlined.
Federal and Regional States leaders, who will not be in the battlefields, shall in their best capacity work harder than ever for development and administrative work.
Abiy said "As the others guard their surrounding with wisdom, our elderly mothers and fathers will pray persistently and as a result everyone will work together to ensure Ethiopia's victory."
This is no longer a time to sit back and watch to criticize, but to do what has to be done by ourselves. No one will stand for Ethiopia better than we do. The name Ethiopia is the name of the winners; a symbol of freedom.
"I have no doubt that my generation will pay the price for its victorious name, and the symbol of freedom will print Ethiopia and to be an Ethiopian in gold," the Prime Minister said.
For More News And Analysis About Ethiopia Follow Africa-Press