Africa-Press – Gambia. With the onset of the holy month of Ramadan, the charity arm of GACH Global-Abubakary Jawara Foundation, on Wednesday commenced the distribution of a- D6M goodwill project, earmarked to support Muslims during Ramadan.
In the first disbursement, the foundation distributed 2200 bags of rice and 300 bags of sugar to the Supreme Islamic Council and other institutions, while one hundred individuals were given D500 each.
The foundation has also allocated a package for the communities it is conducting mining activities such as Tujereng, Kartong, Sanyang, Batokunku and others.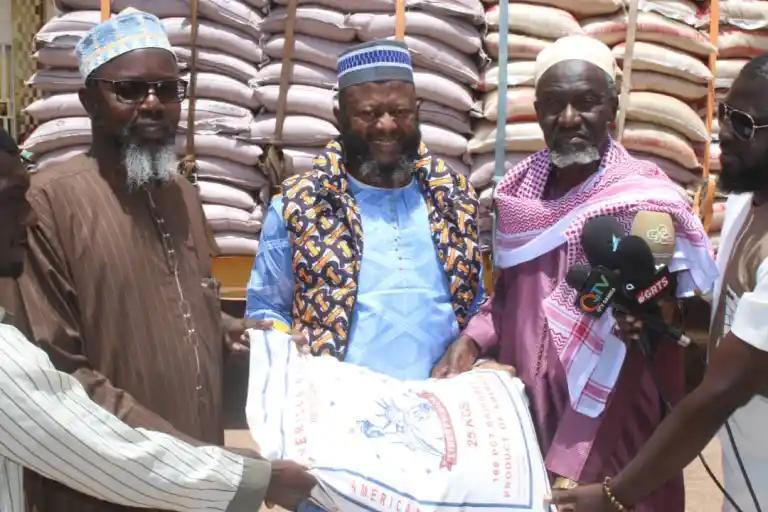 The secretary to the foundation, Bai Samba Drammeh, disclosed that Wednesday's presentation is meant to assist needy Gambians across the country.
"The Abubakary Jawara Foundation is created to support philanthropic gestures. Since its formation, it has put smiles on the faces of many Gambians through various forms of intervention that impacted positively on their livelihoods. It has also sponsored several local and overseas medical treatments, and supports rural communities with the dredging of boreholes as well as other projects," he said.
Drammeh said the foundation has also supported students with their tuition fees and annually contributes significantly in the country's social economic development.
Yusupha Jawara, chairman of the foundation said it stands to mitigate and elevate poverty of Gambians especially children and seeks to promote community integration and unification through providing financial support to households and communities.
"As a foundation, we are committed to our objectives in uplifting the status and living conditions of the financially disadvantaged people in our country by helping to provide them with basic necessities," Jawara said.
Sheikh Essa Darboe, president Gambia Supreme Islamic Council (GSIC), Shiekh Hamma Jaiteh and Sheikh Essa Jawara all hailed the foundation's magnanimous gesture and urged other business owners to follow suit.
For More News And Analysis About Gambia Follow Africa-Press