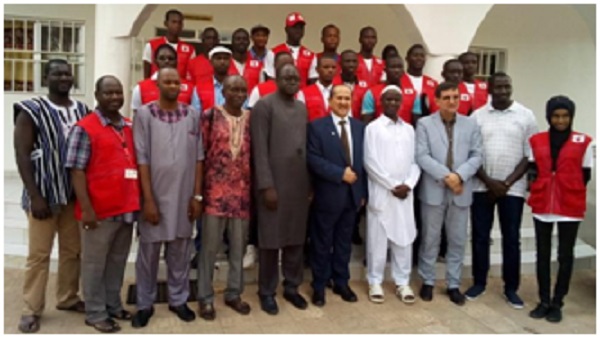 The Gambia Red Cross Society and Qatar Red Crescent recently signed a Memorandum of Understanding (MoU) to strengthen the operational and institutional capacity of the Gambia Red Cross Society (GRCS).
The MoU is to ensure the GRCS is able to support communities on health, sanitation, livelihood, resilience, disaster prevention and response.
The MoU came on the hills of good bilateral relations between the two countries, following a high-level Qatar delegation visit to The Gambia to assess the country's development needs following President Adama Barrow's earlier visit to Qatar.
Speaking on the occasion at the GRCS head quarters, Alasan Senghore, secretary general highlighted the importance of the MoU saying since The Gambia is reemerging with a new dispensation, the GRCS is also reemerging as a national society that wants to retake its position in terms of delivering both humanitarian and development services to Gambians.
Senghore also talks about discussions between the two parties to the MoU on strategies, needs and priorities.
According to him, the MoU will strengthen the GRCS's capacity and reposition it as one of government's key partners in bringing both development and humanitarian services to Gambians.
Ali Bin Hassan Al-Hammadi, secretary general, Qatar Red Crescent, said the GRCS impresses his movement, saying with the GRCS's vision, he is confident that the partnership will grow from strength to strength.