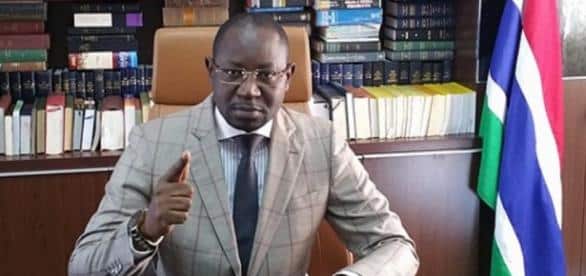 The leader of the Gambia Moral Congress, Mai Ahmad Fatty has said he will remain relevant in Gambian politics and that he will succeed President Adama Barrow.
"Let me go further to confidently say that I am the next President of The Gambia after Barrow."
"I will also state that my ambition for the presidency has never influenced my professionalism at work, and I do not take political considerations in the performance of my duties.As a lawyer, maintaining confidentiality is a cardinal principle that cannot be compromised.What happens at State House in the course of my duties stays at State House.The president trusts me and that was why he brought me closer where I have been subjected to tons of privileged information.I will never betray that trust, no matter what," he added.
The GMC leader has also vowed to challenge anyone who attempts to stop the 3 Years Jotna from protesting, a rapidly growing activist group calling for President Adama Barrow to step down in December.
"I will not be out on a three-year agenda.Those who want to do so, have their constitutional rights to disagree and I will support and uphold their right to protest.They must be allowed to protest.Nobody can deny them that right. If they deny them, I will be the first one to go to court to defend them," he said at a press conference organised to announce his resignation as Presidential adviser.
He added: "For those of us who believe my resignation has something to do with the 3 years jotna, you are making a mistake.I am not part of that and my party is not part of it.I want to make that abundantly clear because nowadays people connect dots that are not connectable".
Fatty said what is important to him is for the country to remain peaceful and stable.
"We all belong to one Gambia.We can't agree on everything, but we can agree on something. Let us be agents of unity.
Let us try to bring mutual understanding between our leaders," he said.
Resignation
The GMC leader also used the Friday press briefing to announce his resignation as Special Adviser to President Barrow.
"I made a personal commitment when I was appointed that the day I will not feel challenged, I will leave.I no longer feel challenged.I do not feel being useful as special adviser to President Barrow anymore," Mai said.
Fatty further stated that his decision will not affect his relationship with the President."Our relations at personal level remain strong.We've been friends for over thirty years.We've that personal friendship and I cherish that very much," he revealed in an attempt to shut down any speculation.
Fatty disclosed that a good number of GMC supporters opposed his return to government but he promised them that they will do their best to change the trajectory.