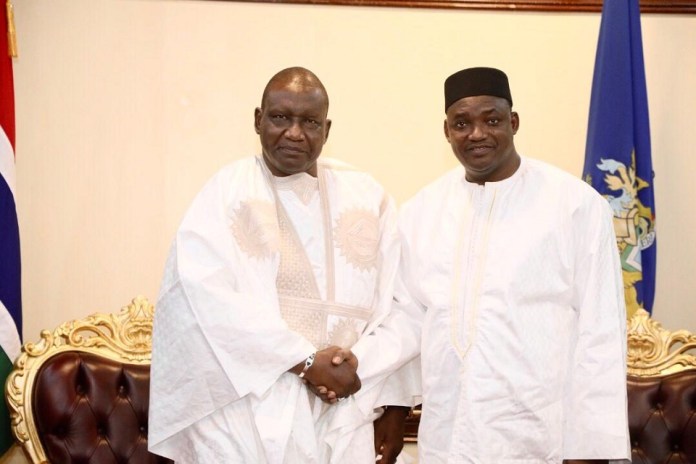 His Excellency, President Adama Barrow on Wednesday received the Letter of Credence of the new Senegalese ambassador to The Gambia, His Excellency, Baschirou Sene at the State House in Banjul.
In line with existing diplomatic protocols, Ambassador Sene was received with military pomp and parade, with the honour of inspecting a military Guard of Honour.
In welcoming the new ambassador to The Gambia, President Barrow congratulated the ambassador on his appointment. He stressed the historic and unique friendly relationship between The Gambia and Senegal, saying " the fact that we [referring himself and Ambassador Sene] are speaking Wolof to each other says a lot about the ties we share".
The president expressed optimism that the high level of peaceful co-existence between the two countries will continue to advance the development of their respective peoples. He extended heartfelt gratitude to his colleague brother and friend, President Macky Sall, for his great choice of ambassadors to The Gambia, citing the outgoing Ambassador – Professor Salieu Ndiaye, as a committed and instrumental diplomat to the Senegambian cause.
For his part, the new ambassador said he was happy to be assigned to The Gambia, vowing that his ultimate mission is to further strengthen and expand the bilateral ties between The Gambia and Senegal.
"I am sent here to foster the strong ties between The Gambia and Senegal. We are all happy about the current state of relations between our countries. The relationship is great and beautiful. I am happy to be assigned here because I consider myself Senegambian citizen".