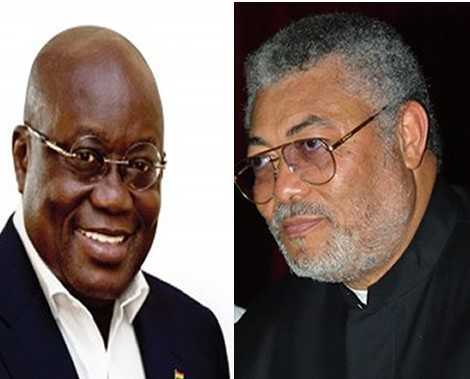 The President, Nana Addo Dankwa Akufo-Addo, says one of the greatest legacies former President J.J. Rawlings left the country is the district assembly concept, which must be protected and sustained.
The President, who was speaking at the 30th Anniversary celebration of the creation of the Akatsi South District at the capital Akatsi yesterday, said he would uphold and deepen local governance by ensuring that elections at the local government level have been made partisan.
Nana Akufo-Addo noted that the time had come to move away from the so-called non-partisan nature of elections in local government administration.
According to the President, it is common knowledge that even though elections at the local government level are non-partisan, political parties still secretly support candidates.
According to him, he is ready to relinquish his power of appointing District Chief Executives (DCEs) to the people.
He, therefore, urged Ghanaians to support the referendum and vote for 'Yes', as a way of transferring power to the people to elect their own DCEs.
Responding to the request from the Paramount Chief of Avenor Traditional Area, Togbui Dorglo Anumah VI, to upgrade the Akatsi South District to municipal status, the President said the request was reasonable.
The Paramount Chief commended the President for granting them traditional council status.
He described the President as a man of principle who walks his talk, and that the chiefs and people of Avenor would not forget him.
Nana Akufo-Addo, who visited the HGL rice and maize farms at Adaklu Tsreife, also addressed the chiefs and people of Ketu South at Aflao.
The two days working tour of the Volta Region would take the President on the second day to North Dayi, South Dayi and Juapong in the North Tongu District, where he would tour Volta Star Textile Limited.
The Minister for National Security, Mr. Kan Dapaah, Chieftaincy Minister Mr. Samuel Kofi Dzamesi, Energy Minister Mr. John Peter Amewu, Health Minister Dr. Kweku Agyemang Manu, and the Local Government Minister, Madam Hajia Alimatu Mahama, are in the President's entourage.