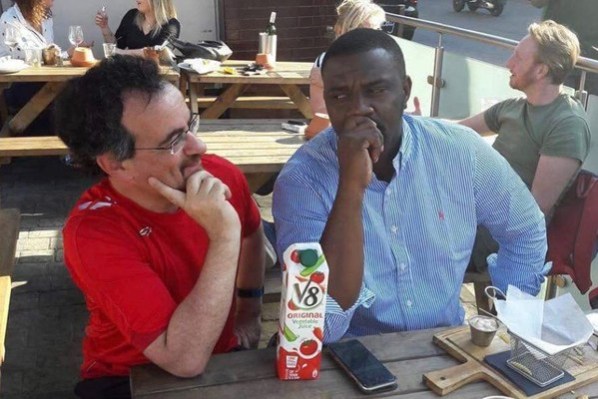 The 2020 Ayawaso West Wuogon Parliamentary Candidate for the opposition National Democratic Congress (NDC), Mr. John Dumelo says he is not bothered by several 'killer' tweets by former UK High Commissioner to Ghana, Jon Benjamin which sought to defame him.
"Jon Benjamin is my friend and his tweets about me are jokes. Though am not bothered but I have told him to cut such jokes because they are too expensive", the popular actor said in an interview Africa-press.com/ghana/ monitored on Abusua FM in Kumasi.
According to the young, who described Jon Benjamin as a close pal, Ghanaians should see tweets against his repute from the former UK High Commissioner to Ghana as one of those things.
"He is my friend. Anytime I go to London, we meet and have a lot of discussion about Ghana and world at large", the actor cum politician revealed in the interview.
Jon Benjamin in his last tweet, subtly reminded John Dumelo, of his 'stolen' Toyota Landcruiser V8 scandal as the latter emerged winner of the NDC Parliamentary primaries in the Ayawaso West Wuogon Constituency.
In a 'killer tweet' after Mr. Dumelo was declared winner in Saturday's election with over 700 votes, Mr. Benjamin sarcastically stated that "@johndumelo1 ayekooo paaaa for your nomination, the first step on a long political journey to becoming Ghana's President – sometime around the year 20V8."
Mr. Benjamin is known for jabbing John Dumelo as well other making similar tweets on happenings in Ghana as though he is a citizen.