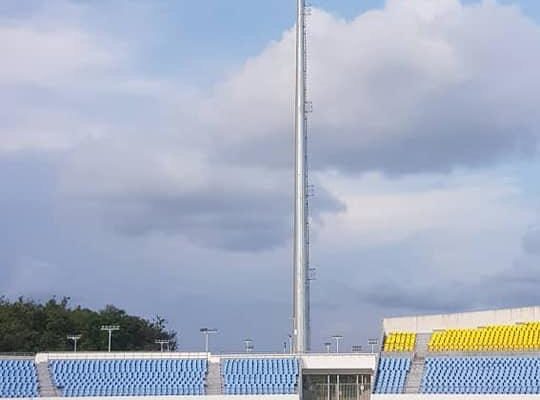 The Cape Coast stadium is ready to host the Black Stars as they take on their South African counterparts Thursday in the African Cup of Nations qualifiers.
Officials of the National Sports Authority have been doing routine and last minute works on petty fittings and putting finishing touches to the grass, post and other fittings.
Green grass technology who are in charge of the pitch have put in a stupendous job with the playing surface in top form and the pigment as green and fresh as ever.
The NSA boss Prof Peter Twumasi paid a working visit to the stadium with Central Regional Director of NSA, Mr George Osafo, and his team, as well as Regional Rep of Green Grass Tech, Ms Lucy.
"The pitch which has been fertilized and treated has attained 80% of the desired texture and colour."
"We also tested the electricity generating plants, flood lights, scoreboard, indoor spaces, and stands and they all met the required standards. I'm thankful to these hardworking staff and believe that the remaining tasks would be excellently accomplished." he disclosed after the visit.
PHOTOS: