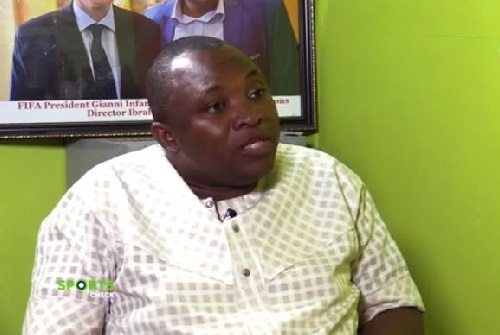 Former GFA spokesperson, Ibrahim Sannie Daara
Former Communications Director of the Ghana Football Association (GFA), Ibrahim Sannie Daara for the very first time has opened up about the Anas Aremeyaw Anas Number 12 exposé which brought the 13 -year reign of Kwesi Nyantakyi to an end in 2018.
Speaking on Adricapress's Sports Check programme, Sannie Daara said he is convinced in his mind that the exposé, which he describes as a pack of lies was instigated by some elements in the football industry. He adds that Anas Aremeyaw Anas set up to humiliate and disgrace him and Kwesi Nyantakyi in the eyes of right-thinking members of society.
"For me, I am certain in my mind that even though I don't have a cast-iron evidence, I know it is people within the football fraternity who have plotted this thing against him (Kwasi Nyantakyi). They targeted myself and a few vocal people at the FA who are loyal to Nyantakyi and have the capacity to defend him."
The former BBC Sports Journalist also revealed that his decision to leave the English broadcaster to work at the GFA was not financially motivated as many people think. He said he took a big pay cut to work for the FA because he was spurred on by the new challenge.
He, however, says he does not regret the decision to leave London for Ghana. Having worked in the media space for such a long time he says he was surprised at the level of unfair criticism and verbal abuse he received at the hands of people he hitherto described as friends.
In the no-holds-barred interview, Sannie Daara revealed that former FA President Kwesi Nyantakyi has forgiven all those who plotted his downfall and has become more philosophical about life since the exposé.
Though still a staff of the GFA, Sannie Daara claims he does not see himself playing a major role in the Kurt Okraku administration.
In his words, the new FA President, Kurt Okraku must 'watch his back', in order to avoid the landmines that will be deliberately set up for him.
Watch the full interview below.