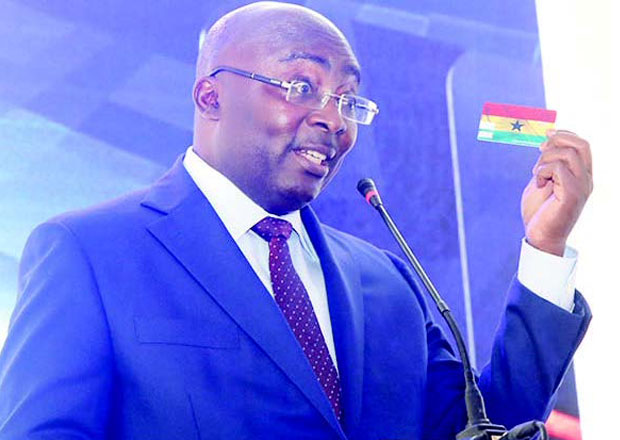 Vice-President Dr Mahamudu Bawumia launching the GH Dual Card
With effect from next year, all public sector workers will receive their salaries through a common electronic platform.
The novelty forms part of plans by government to eliminate the incidence of ghost names from the country's payroll, according to Vice-President Dr Mahamudu Bawumia.
Launching the GH-Dual Card in Accra yesterday, Dr Bawumia said: "With the introduction of the common platform, the problem of ghost workers is going to be solved once and for all; we are using technology and digitisation to solve this problem."
"All government workers will also be paid through the filter of the e-zwich card. All public sector workers who do not have the e-zwich card will be issued with some. By June 2020, we will require that all government payments be made electronically," he stressed.
He further explained that the GH-Dual Card is a two-in-one payment card that has both the e-zwich and gh-link applications.
According to him, in the area of travel expenses, government has also decided that all such arrangements will be done using credit and debit cards for ease, convenience and to cut wastage and needless expenditure.
"It will also save people the hustle of carrying cash and the inconvenience it creates, and for domestic travels, the gh-link cards will be very very go0od, working with your e-zwich and mobile money wallet," he emphasised.
He challenged Ghana Interbank Payments and Settlement Systems (GhIPSS), financial institutions and the telecommunications companies, especially mobile phone service providers, to work closely with government agencies that collect revenues, levies and fees to ensure that it becomes possible for people to pay electronically.
Currently, the National Service Scheme (NSS), Youth Employment Agency (YEA), the Nation Builders Corps (NaBCO), nursing and teacher trainings, and students – all receive their salaries, allowances and loans through the e-zwich electronic payment system.
The biometric feature on the platform makes it ideal for public sector payments with the elimination of ghost workers from pay rolls.
Chief Executive Officer (CEO) of GhIPSS, Archie Hesse, explained that the new GH-Dual Card can be used either as e-zwich, gh-link or both at the convenience of the cardholder.
Depending on the request of a customer, an issuing bank can activate any of the functionalities that serve a customer's purpose.
It has been designed to give cardholders access to both funds on their e-zwich cards and in their bank accounts at the same time.
He was convinced the GH-Dual Card has come in to eliminate the inconvenience that comes with carrying multiple cards. Individuals with both cards can now opt for the GH-Dual Card.
In the case of withdrawals, customers who want to withdraw or spend off the e-zwich card would need an e-zwich terminal or a hybrid terminal which requires finger print authentication – same applies to gh-link cardholders.
This is expected to provide financial institutions with an opportunity to cut down on cost on issuing separate cards to the same customer as they now have the option to issue a dual card that incorporates the functionalities of both gh-link and e-zwich cards.