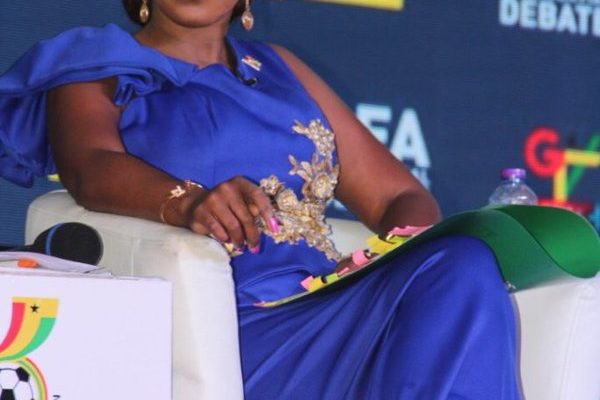 Ghana Football Association presidential aspirant Amanda Akoukor Clinton has been the subject of Social media trolls after her underwhelming display in last night's Ghana FA presidential debate held at the College of Physicians and Surgeons in Accra.
But for her beauty Amanda Clinton did barely anything to convince delegates that she is worthy of their votes.
The legal practitioner displayed very little knowledge of football and at was most times dancing around the questions.
Although she was below what many expected she had some very good points too with some subtle jabs at the so called 'football people' cliche which clearly she is not part of.
Below are some views of Ghanaians on social media:
PAQ® (@PapaQuasy) twitted:
Abeg no Vex!
Plz where did Ms Amanda Clinton come from, to contesting this GFA thing?
She's really 'not making a case for women' if that was the plan to at least see a woman in this contest.
#GFADecides2019 #gfadebate
https://twitter.com/PapaQuasy/status/1186411174142849024?s=17
Cherubin Walter (@cherubin_walter) twitted:
Amanda Clinton watches football on TV and not good at this time to handle our football administration.
https://twitter.com/cherubin_walter/status/1186538331322114048?s=17
Amanda Clinton struggling #GFAPresidentialDebate

— Gabriel Obu (@GabrielObu1) October 21, 2019
Amanda Clinton is a big bomb..mamamia

— NTLSPORTS (@NTLSPORTS1) October 21, 2019
Nathan Quao (@nathan_quao) twitted:
The DOL question really shake Amanda Clinton. Wowolo!!!
https://twitter.com/nathan_quao/status/1186394409249787906?s=17
Break it down for my Amanda Clinton #GFADecidesOnHappyFM

— @iampen (@NanorPeter) October 21, 2019
5️⃣ Amanda Clinton

Out of her depth.

Made two coherent points: one on women's footy, and on the capitalist nature of the football market.

Besides that, she would not want to watch a replay of the debate. Neither would we, on her behalf. Bye, Amanda. pic.twitter.com/c0cq9zVbJs

— Gary #JoySports (@garyalsmith) October 22, 2019
amanda clinton no edey search sometin. no be fa prez she dey want

— myles (@akw_asi) October 21, 2019
Women need representation, But i doubt they want it the Amanda Clinton way.

— Mr. James Mensah (@Papjay007) October 21, 2019
Amanda Clinton's lack of proper football knowledge clearly been exposed

— BENGARZI TV on Youtube (@BENGHARZI) October 21, 2019
Amanda Clinton very clearly was out of her depth. Football in this country is cutthroat industry and you won't get far by being just nice…also if she managed to come this far then she has something to offer.. whoever wins maybe let her chair juvenile football. let's see

— Township Jive 👣🇬🇭 (@burckson_jude) October 22, 2019
This debate is more useless than a Sakora's afro comb. Infact it is risky to attend any election debate in Ghana, ask Nana Addo. Government beureaucracies, a corrupt media and an FA who still have the football people mentality. Amanda Clinton too? ah well. #GFADecidesOnHappyFM pic.twitter.com/P7GWIkTNTB

— United forever! (@ScottFreed12) October 21, 2019
What is Amanda Clinton reading in that book at all? This isn't the time to read please but tell us what you want to do when elected as the President of the Ghana Football Association (GFA). #GFADebate

— @Agbakpedom (@Dom91204346) October 21, 2019
Tonight the person who has been evicted.

The one whose journey ends her is ..

Amanda Clinton 😣 pic.twitter.com/8Jqf6C7ByY

— Call Me Osei (@SirAmankwaah) October 21, 2019
I love how Amanda Clinton answering questions lololol seriously she is not ready for the GFA seat #GFADecides2019 #Gfadecides

— baidoonews.com (@baidoonews) October 21, 2019
Amanda Clinton wada anaa? looking into the book to answer almost every question.her performance has been very underwhelming.NYA has been super Kurt too has been good. #GFADecides2019

— Opoku-Amoako Kingsley (@opokuamok) October 21, 2019
Amanda Clinton. Lol.

— Gary #JoySports (@garyalsmith) October 21, 2019
https://twitter.com/SirAmankwaah/status/1186410026950373376