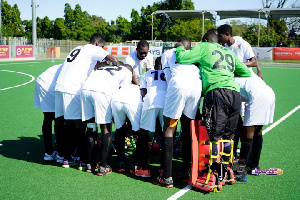 Ghana's male and female hockey teams failed to qualify for next year's Tokyo 2020 Olympics after finishing 3rd and 2nd respectively at the ended 2019 African Hockey Olympic Qualifiers yesterday 18th August 2019 in South Africa.
The men's team bettered their performance from the 2015 edition of the qualifiers where they finished 4th after a 4-3 defeat to Kenya. The women, however, maintained their 2nd place position from the 2015 Qualifiers.
Hosts South Africa claimed their 4th title in a row and a ticket to Tokyo, as both their men's and women's teams went undefeated in the competition winning all their games including thrashing Ghana 9-1 in the men's division and 6-0 in the women's.
Ghana's men's team needed a huge victory over Egypt on Saturday 17th August, and for the North Africans to defeat the South Africans by a favourable result yesterday, but it was not meant to be as Ghana lost 3-1 to Egypt and the South Africans defeated the North Africans in a close 3-2 result yesterday.
The women's team who had impressed at the qualifiers needed a victory against South Africa on the last day of the qualifiers but fate was not on their side as the South Africans smashed 6 unanswered goals against the Ghanaians to claim their ticket to next year's Olympics.
Team Ghana is set to arrive in the country tomorrow 20th August 2019.