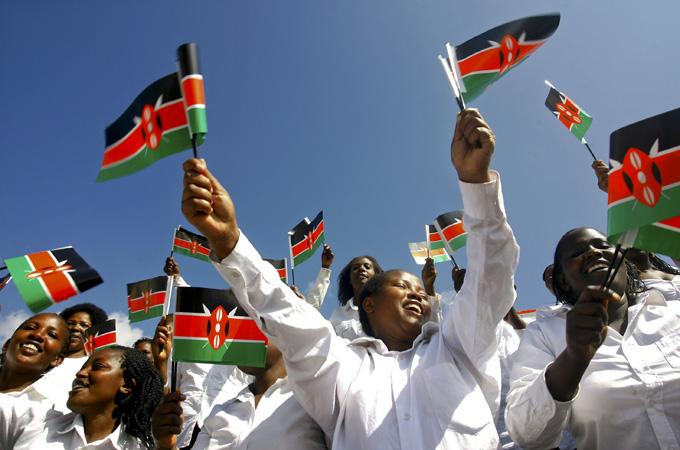 Written by Faridah N Kulumba
Africa-Press-Kenya Kenya has made significant political and economic reforms that have contributed to sustained economic growth, social development, and political stability gains in 2021. Kenya ushered in 2021, still in the Covid-19 shock which hit the economy hard through supply and demand shocks on both the external and domestic fronts, according to the World Bank in Kenya 2021 overview.
But as the year went on the situation started to change after President Uhuru Kenyatta lifted the lockdown, and the country focused on development, and political heat began to rise as the country is preparing for the general elections in 2022.
Political highlights
Making up and breaking ties
On May 7, 2021, Somalia issued a statement declaring that it was restoring diplomatic relations with neighboring Kenya almost six months after severing ties accusing Nairobi of meddling in politics. And on 11 May 2021, the two nations' diplomatic relations came to a standstill after the Kenyan government suspended all flights to and from Somalia.
Alliance
Kenyan President Uhuru Kenyatta's ruling party Jubilee took the first step within party structures to forge a coalition with the opposition leader Raila Odinga's Orange Democratic Movement (ODM). The ruling party aimed at transforming the March 9, 2018 "Handshake" political truce between President Uhuru Kenyatta and Mr. Odinga into a formal pact and to bring together all like-minded leaders for a united country ahead of the 2022 elections.
DP Ruto blocked
In August, Kenyan Deputy President William Ruto was blocked by immigration officials from flying to the neighbouring country Uganda for the private meeting with President Yoweri Kaguta Museveni. Ruto wanted to hire President Museveni as his chief political adviser as he prepares his State House bid in the 2022 General Election.
BBI
On 20 August, the Kenyan Court of Appeal upheld the High Court ruling that President Uhuru Kenyatta and opposition leader Raila Odinga's Building Bridges Initiative (BBI) was null and void and its processes were unconstitutional.
*UN Ruling-* In October Kenyan government rejected a ruling by the United Nations (UN) top court which allowed Somalia to take control of a potential oil and gas-rich chunk of the Indian Ocean.
Economical highlights
Deals
On 4th May, the President of Kenya Uhuru Kenyatta together with Tanzania President Samia Suluhu Hassan agreed on a raft of deals and among the biggest one was a long-awaited plan to build a 600km cross-border gas pipeline that will run between the coastal cities of Mombasa and Dar es Salaam.
Loans
The International Monetary Fund (IMF) in May, approved another Sh 44.2 billion tranches to be wired to the Central Bank of Kenya (CBK) as part of a 38-month program, after its executives had completed their disbursement engagements with Kenyan officials, amid Kenyan outcry.
Offshore accounts
In October, the family of Kenyan President Uhuru Kenyatta was linked to a freshly released declassification that exposed how the rich and mighty have stashed billions of shillings in offshore accounts. Kenyatta and six members of his family were linked to 13 offshore companies, according to the Pandora Papers 12 million files which is the biggest leak in history.
Security highlights
*Armored vehicles-* In January this year, Kenya's military ordered 118 four-wheel-drive mine-resistant ambush-protected Hizir vehicles personnel carriers from Turkish armored vehicle manufacturer Katmerciler, to provide the Kenyan troops with protective mobility wherever they are deployed, to fight against al-Shabaab militants from Somalia.
Refugee Camp closure
On 24 March Kenyan government ordered the United Nations High Commissioner for Refugees (UNHCR) to close the Dadaab and the Kakuma refugee camps, home to 410,000 refugees from Somalia, Citing national security concerns.
*Terrorism Drill-* The United States Embassy in Nairobi in November, held a Joint Readiness Exercise attended by representatives from the Kenyan government and the US Department of State's Bureau of Diplomatic Security. The exercise was to ensure that the security agencies are ready for terrorist attacks.
Al-Shabaab
on September at least 15 members of the al-Shabaab terrorist group were killed in Kenya when their vehicle ran over an improvised explosive device (IED). The group had planted the explosive device in Lamu County near the border with Somalia.
Al-Shabaab terrorists have long carried out IED attacks in Kenya targeting security officers patrolling key routes on the porous Kenya-Somali border.
Toxic Waste
In December 2021, Kenya defended herself on its move to stop a cargo ship en route to Zanzibar loaded with radioactive materials. The decision was within the international treaty to protect Africa from the import of harmful waste. The ship, which was docked at the port of Mombasa, was loaded with harmful nuclear waste that was to have been dumped on the East African coast, endangering the health of millions of people in the region.
The Fight
On 29 Dec, Kenya winded up 2021 in style when members of parliament exchanged blows during a plenary session as they were debating a controversial Amendment Bill, governing political parties ahead of next year's election.