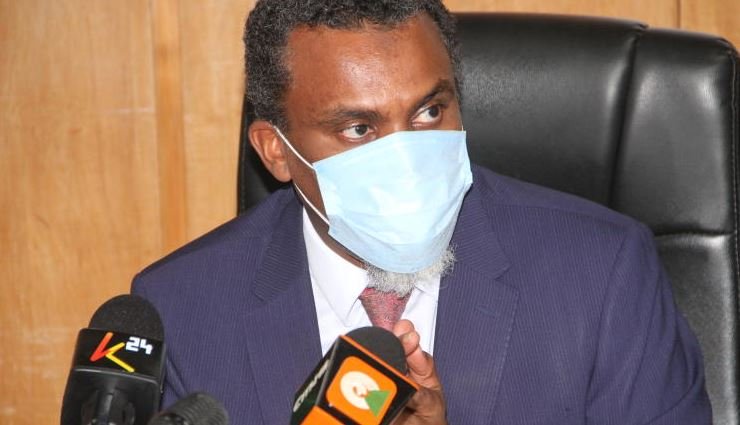 AfricaPress-Kenya: Director of Public Prosecutions Noordin Haji (above) and world marathon record holder Eliud Kipchoge are among four Kenyans who got onto the list of top 50 African disruptors.
The ranking, which was done by the Africa Report, puts the four among politicians, athletes, investigative journalists, techies and business barons who are the rules of the game – some for the better and others for worse – on the continent.The other Kenyans on the list are Twiga Foods CEO Peter Njonjo and consultant Edwin Macharia.
Financial misconduct
Haji is ranked position 37 for his efforts to fight crime in the country, and features alongside continental men and women who the report says are shaking up the status quo, asking uncomfortable questions, upending business models and fighting preconceptions.
The report indicates Haji is delivering on his promise to tackle graft."The Director of Public Prosecutions orchestrated the July 2019 arrest of the country's finance minister, Henry Rotich, on suspicion of financial misconduct, which Rotich denies; 27 other government officials were also charged," the report said.The report cited Rotich as the first sitting Cabinet Secretary to be charged with financial misconduct in the country's history.
Days later, the report commends, Haji ordered the arrest of a governor for abuse of office, conflict of interest and dealing with suspected property."Another governor was arrested in December for misappropriating public funds.
Dozens of current and former public officers have been charged, and more than 300 prosecutors have had their appointments revoked."Haji, a lawyer by profession, worked in the Intelligence Service for 18 years before joining the public service in 2000 as a State crime fighter.
Njonjo is ranked in position 25 for his business that has contributed to success in food supply in the country.Twiga Foods, one of Kenya's most successful start-ups, was set up in 2014 as a solution to inefficiencies in Africa's large, but highly fragmented, informal fruit and vegetable market.
His company uses a technology-enabled platform to source products from 17,000 farmers across 20 counties, and delivers them directly to 2,500 vendors a day in Nairobi and its environs.
The company has expanded to fast-moving consumer goods (FMCGs), and targets continental expansion by the third quarter of 2020, starting with French-speaking West Africa, and then Nigeria, the report says."The company has been credited with raising farmers' yields while stabilising consumer prices, and is building a new distribution centre that will have state-of-the-art cold rooms, conveyors and sorting equipment, enabling Twiga Foods to offer supply-chain services for both agricultural and FMCG products," the report reads.
Njonjo is followed by Olympics champion Eliud Kipchoge, with his famous tag, 'Breaking limits'.Kipchoge broke the marathon world record in Berlin in 2018, completing it in 2:01:39 – a minute and 18 seconds faster than the previous record.
He won the 2019 London Marathon in a time of 2:02:37, which saw him hold the records for the fastest and second-fastest marathon speeds of all time."But neither of those are his fastest recorded time.
Having won 12 out of the 13 marathons he has entered, he became the first person in recorded history to finish a marathon in under two hours in October 2019," the report reads in part.It adds that Kipchoge's time did not count as a new world record under IAAF rules owing to the set-up of the challenge, but it earned him two Guinness World Records, including the fastest marathon distance (male) and first marathon distance under two hours.
Tilted focus
The report indicates that Macharia, the final Kenyan on the list at position 47, was hired as global managing partner – the first time a Kenyan has held the role – by global consulting firm Dalberg Advisors.
Rather than sit in headquarters in New York, Macharia has tilted the company towards the continent, doing most of his work from Nairobi.A former McKinsey employee who also worked at the Clinton Foundation, Macharia is responsible for innovating across the whole group, according to founder Henrik Skovby.
He also set up the Kenya office in 2008 and tried his luck in politics by vying for a parliamentary seat.The four Kenyans feature alongside African heads of states and governments, including Ethiopian Prime Minister Abiy Ahmed, President Nana Akufo-Addo (Ghana), Alassane Quattara (Ivory Coast), Felix Tshisekedi (DRC) and Pombe Magufuli (Tanzania), as well as former DRC president Joseph Kabila.