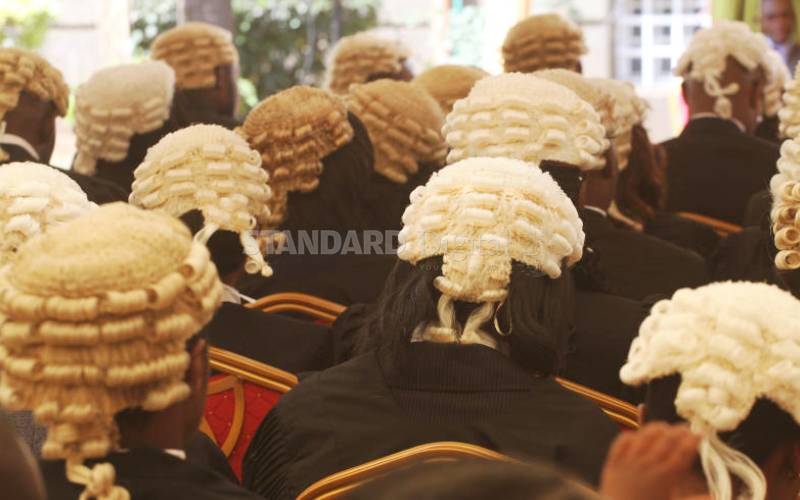 A row is brewing between judicial officers and the Judicial Service Commission (JSC) over lack of promotions.The officers claim the commission has only been promoting magistrates, Kadhis and judges annually, while other categories of workers have stagnated in the same job group for years.
This came as documents seen by The Standard indicated that some 214 magistrates and Kadhis have been lined up for promotion this year. Last year, some magistrates were also promoted.In the list, some 40 magistrates will be promoted from senior principal magistrate to chief magistrate while 33 principal magistrates will be promoted to senior principal magistrate.
Resident magistrates
Other categories of magistrates listed for promotion are 88 senior resident magistrates, who will be promoted to principal magistrates. Four other resident magistrates are set to be promoted to the position of senior resident magistrate.
The commission has also listed several Kadhis for promotion this year, with nine principal Kadhis expected to be promoted to principal Kadhi. Twenty one resident Kadhis will also be promoted to senior resident Kadhi.
Several judicial staff told The Standard that the promotions have been discriminatory with other categories of staff not considered in the promotions.A number of judicial staff stationed at the Kisumu, Winam, Maseno, Ukwala and Siaya Law Courts said the promotions have been limited to judges, magistrates and Kadhis.
They also claimed that they had been denied a chance to take part in a training organised at the Judicial Training Institute, claiming that the lack of training was impacting negatively on performance.
"It is saddening that a majority of us have been stuck in the same job group for several years while other people are being promoted by the commission," claimed an employee at the Kisumu Law Courts who sought anonymity.The employee claimed he was among the people who were to benefit from any judicial training despite serving for several years.
"We are aware that the Judiciary has been receiving funds for promotions and human resource every financial year but junior employees are stuck in the same job group," claimed another officer.Some of the employees blamed corruption cases involving court clerks and other judicial officers on poor terms of employment.
They claimed that some of them have had to seek alternative means of earning a living as a result of frustrations at the work place.However, Chief Registrar of the Judiciary Anne Amadi defended the institution, saying they are in the process of promoting staff."We stopped promotions sometimes in 2017 because we were restructuring but we are starting the process again and it will focus on performance and not the number of years one has served," said Ms Amadi.
She denied that the process was discriminatory and termed the claims as malicious, adding that they have been doing their best to improve their workforce."We have a training programe for the judicial staff through the Human Resource department. We have already finished reorganising ourselves and promotion will be based on education qualifications and performance," said Amadi.
Unlike junior judicial staff, she said, judges and magistrates have been receiving training at the Judicial Training Institute.The discontent by staff is set to present a headache to Chief Justice David Maraga's administration which is also struggling with low funds to keep operations at the various courts running.
Myriad problems
The courts in question are also grappling with a myriad problems, including poorly-maintained infrastructure while other ongoing projects have also stalled.In a memo released by the Judiciary last November, the institution reviewed its grading structure and reduced it from 17 to 11 which affects all the staff.
The institution indicated then that they will issue the staff with conversion letters, indicating their new grades and designations as well as the salaries and allowances they should expect.A salary structure signed by Human Resource Director Elizabeth Kalei also indicated that various categories of judicial staff will get salary increment of between Sh1,431 and Sh8,800 after moving  to their new job groups.??