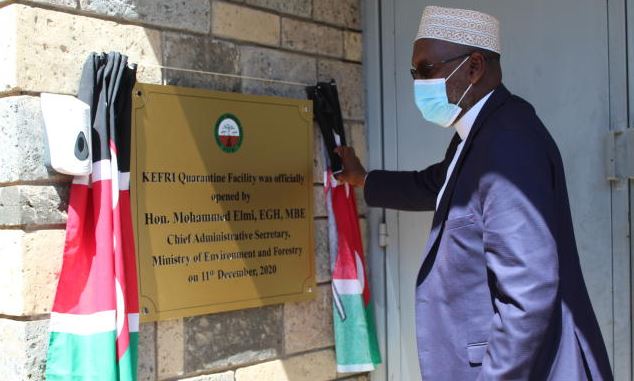 AfricaPress-Kenya: Kenya has launched a Sh40 million insect quarantine facility hosted at the Kenya Forestry Research Institute (Kefri).
The research facility, the first in East and Central Africa and the second in Africa after South Africa, is a milestone for researchers.
The centre will help Kenya manage and control insects from other countries that come through border points.
While opening the facility, Environment Chief Administrative Secretary Mohamed Elmi said this places Kenya ahead of other African nations and makes work easier for crop scientists.
"This is largely to protect our plants and to tackle pests that are destroying our trees and crops. It will come in handy to support the maize sector which is being ravaged by the fall army worm," said Elmi.
A research in the journal Science Direct in April this year noted that the fall armyworm has led to loss of a third of all maize produced in Kenya.
Elmi said the facility has been certified by the Kenya Plant Health Inspectorate (Kephis).
As a start, Kefri has signed a memorandum of understanding with the Kenya Agriculture and Livestock Research Organisation (Kalro) to use the facility to study the destructive fall army worm.
Protected area
The facility, due to its highly sensitive nature of operation, is an earmarked security area with elaborate security features. First, it is in an enclosed area with a heavy metallic door as the first entrance.
Only authorised persons are allowed to enter the facility with double doors leading to three chambers within the facility. The doors are operated by codes.
Dr Eston Mutitu, Kefri's Regional Director for Central Kenya explaining how insect research works, said before being introduced into the ecosystem, insects must be determined to be the right species.
"The first thing that happens is that the insects are brought into containment to be reared and screened against any contaminant so that we do not introduce any unwanted material," he explained.
He said insects brought into the country are usually beneficial ones which are moved from area of origin and brought into a quarantine facility for three reasons. Host specificity, screening and mass production before being released into the area where the pest is.
The facility will also serve other countries in the region at a cost, according to Mutitu. Companies that deal in flowers or fruits are also expected to use the facility in case they want to bring in biological control agents.
For the facility to operate optimally, a standby generator has been installed at a cost of Sh3.4 million.