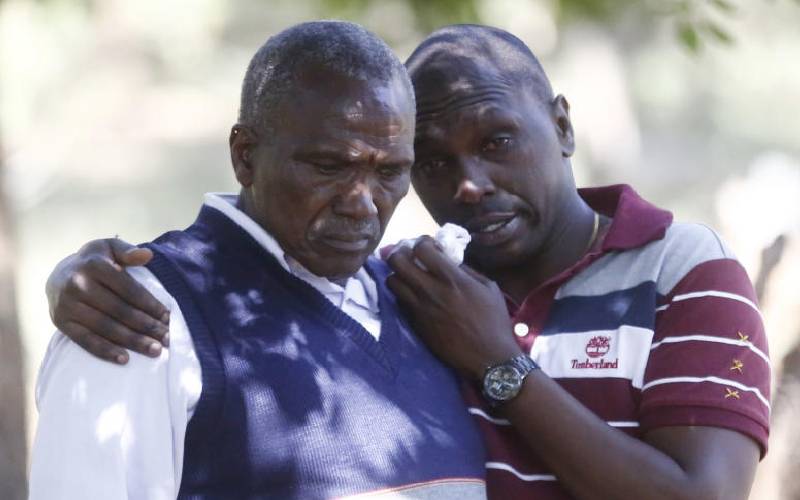 The family of Sergeant Kipyegon Kenei, the slain officer whose body was found lying in his Imara Daima house on Thursday, has maintained their son was not suicidal and urged for a speedy investigation.
Speaking at their Rongai home, Nakuru county a day after the body of their kin, who was attached to Deputy President William Ruto's office was found in the house, the distraught family members said the officer was okay.His elder brother Emmanuel Kenei said they learnt of Kenei's death in the media without any formal communication, as it should be from the forces.
"We met last week Friday when he came to pick his elder son from school and later took his one-week-old baby to the hospital. We had some discussions and he did not show any signs that he was disturbed," he said.He called on the government to conduct a thorough probe into the death, adding that it was not suicide as has been reported."The claims that he shot himself do not add up, because he did not show any signs. If there is a hand involved our tears will not go in vain. Let the government speedily investigate the matter and find out what happened," he said.Kenei was planning to solemnise his marriage in August before his untimely death.
"We met last week to plan the marriage plans after his wife gave birth recently," he said.Kenei's father, John Chesang, said he is yet to come to terms with the sad news and called on the government to investigate the death."Let them investigate the killing fully because today it is my son tomorrow is someone else's," said the ex-chief.The slain officer's mother could not speak to the media as she was too emotional.
Before his killing, the office of the Deputy President said Kenei was expected to record a statement but had not been seen for two days.Kenei of the Administration Police's Security of Government Buildings (SGB) went missing on Wednesday when he was supposed to accompany his colleagues to the Directorate of Criminal Investigations (DCI) to record a statement regarding the Sh40 billion fake arms saga.Police who arrived at the scene had dismissed the incident as suicide and moved the body to the mortuary.
However, they were forced to return it to the scene after learning he was a person of interest in the fake arms saga that has stirred political ripples.DCI boss George Kinoti who was on his way from Mombasa detoured to the scene and summoned officers from the homicide department to take charge.
His arrival caught many officers off-guard.He said it was too early to conclude if the incident was murder or suicide. "Let us wait. It is too early to make a conclusion on what happened."It is not clear what lead to his death, but a house girl who has been cleaning his clothes and house told police she was concerned when he failed to wake up and place his clothes outside as has been the case.