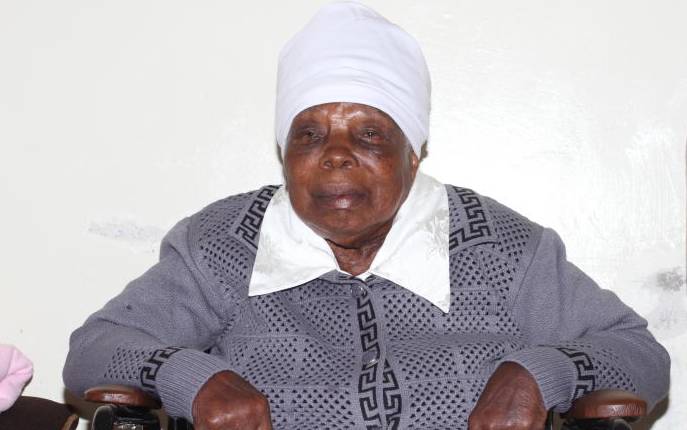 Author:  MICHAEL CHEPKWONY 
AfricaPress-Kenya: Mukami Kimathi, the wife of the late freedom fighter Dedan Kimathi has said she was in support of initiatives that would promote unity in the country.
Mukami was particular with her support for the handshake between President Uhuru Kenyatta and ODM leader Raila Odinga saying love and understanding across the country were promoted through their reconciliation.
"God prefers a place where there is love and understanding among people. The coming together of Uhuru and Raila is good. Kenyans will do businesses peacefully," said Mukami.
She was speaking on Tuesday at her home in Komarock, Nairobi when a group of leaders joined her in the celebration of Mashujaa Day.
Her husband was a freedom fighter who led the Mau Mau military uprising against British rule. Kimathi was killed and buried by British forces with his burial site remaining a mystery to date.
Banners held at the background as she spoke screamed her support for the Building Bridges Initiative (BBI).
After several attempts to pronounce BBI, she said she was in support of all initiatives that were geared towards bringing all Kenyans together, remembering the heroes who have fought for Kenya and programs to support businesses among people.
"I am happy but we want unity. Unity is good. When traders speak, they will be heard," she said.
However, Mukami expressed her frustrations over delayed compensation of freedom fighters saying Government should allocate land to their families.
"The freedom fighters should be remembered. Their cries should be heard. We need land wherever it can be found," she said.
She said she would prefer to be allocated land in Laikipia County although any other place was also welcome.
The leaders who visited her included EALA MP MPuri Aburi, former Makadara MP Reuben Ndolo and businessman-cum-politician Stanley Livondo among other leaders.
Aburi said BBI was going to address issues of neglect of freedom fighters, majority of whom were living in poverty.
"Many freedom fighters died fighting for this country. Only home guards managed to get to power and got good opportunities as the genuine liberators were sidelined. We need this conversation through BBI and ensure justice is served," said Aburi.
Aburi said there was a need to document the individual heroes who played significant roles in the attainment of independence and other major achievements in the country and reward them accordingly.
Ndolo cautioned against misleading sentiments about BBI saying it was better if all leaders would wait for the report to be released before dismissing it.
"Let us stop dismissing government's plan to have a united country. Unity and peace is good for all of us," said Ndolo.