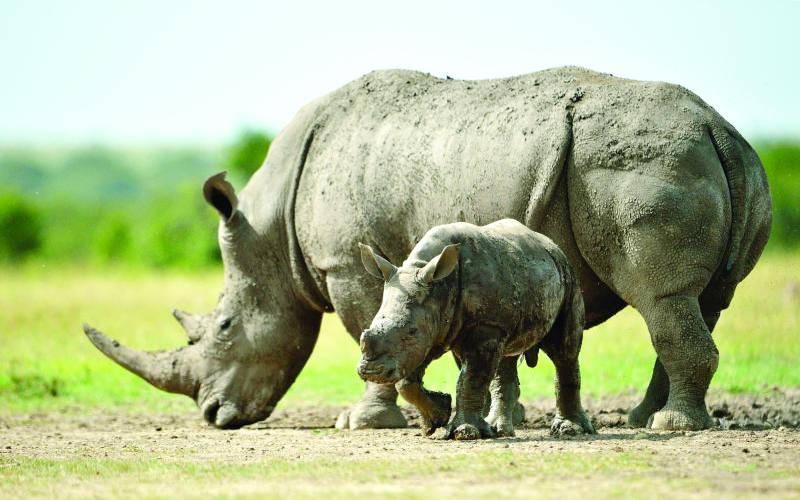 AfricaPress-Kenya: Efforts by stakeholders to prevent poaching of the critically endangered rhinos are bearing fruit after the country recorded zero cases for the first time in 20 years.
Kenya Wildlife Service announced that despite the conservation threats posed by the Covid-19 pandemic on the endangered species, no rhino was poached in 2020, a feat that was last achieved in the last two decades.
"This comes at a time when the country has made significant steps in managing rhino poaching with no case reported in 2020, a feat last achieved over two decades ago," KWS Director-General Brigadier (Rtd) John Waweru said in a statement.
Statistics on rhino poaching in Kenya show declining trends in the past five years. In 2013, close to 59 rhinos were poached, making it the worst year in terms of poaching.
In 2014, there was a drop as only 35 rhinos were poached, the figure dropped to 11 in 2015, and 10 in 2016. In 2017, nine rhinos were poached, while in 2018, only four animals were killed by poachers.
Between 2006 and 2018, the International Union for Conservation and Nature noted that 9,273 rhinos were lost through poaching in Africa, with Kenya recording 237 cases during the period. This means that during the period, Kenya accounted for 2.5 per cent of poaching incidences in the continent.
Statistics reveal that South Africa, however, ranks the highest in poaching incidences. Out of the total 9,273 rhinos poached in Africa, South Africa accounted for 7,948 cases.
According to KWS, enhanced monitoring of rhinos is part of what has reduced poaching incidences. Fitting of horn transmitters and microchips, KWS noted in a statement released last week, has helped in the monitoring of the species' movement.
Waweru says poaching of rhinos has reduced by 90 per cent in the past seven years.