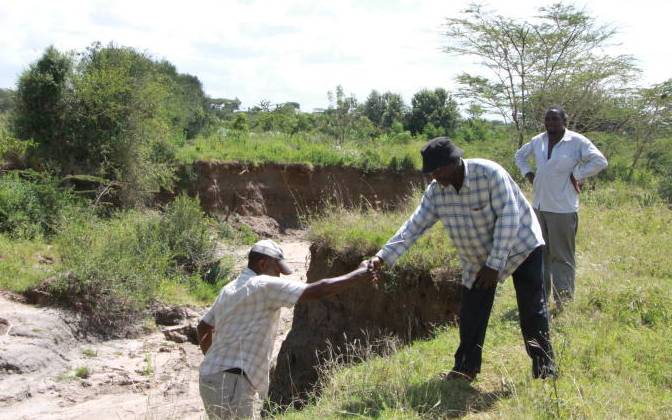 AfricaPress-Kenya: Illegal sand harvesting along river banks in Makueni County is slowly creeping back, thanks to the dusk-to-dawn curfew imposed to curb the spread of Covid-19.
Although the county has put in place a sand authority that has been overseeing activities across the many rivers, it faces a new headache: sand harvesting is now being done during the 7 pm to 5 am curfew period.
Most rivers in Makueni have been recovering from huge craters and steep cliffs left during massive sand harvesting that at times saw vehicles and homes torched in ugly fights between rival groups.Major challenge
Since the government announced the curfew on March 27, illegal sand harvesting has been going on, mostly in Upper Kilome Constituency, where Makueni County borders Machakos County.
In Mbondoni village, Kilome, business is going on as usual with the village head, Kioko Nzuki, saying they have been overwhelmed by the tactics sand harvesters employ to access the rivers."Sand harvesting is worsening. Most people feel that since some rivers snake through their land, they have a right to sell the commodity," said Mr Nzuki.
Residents say a major challenge in fighting sand harvesting is that it has been happening in the full glare of law enforcers."Most times, we have been seizing lorries at the rivers but there is no one to help us arrest the occupants. You can't stay outside holding a lorry till morning; that's endangering our lives," he said.
Administratively, the region lies in Machakos County, but politically, it is in Makueni County since residents here vote in Makueni. This has made it hard to tackle sand harvesting cartels.Boniface Ndichu, a resident, says idle youth in the region have been a challenge, adding that the high price every truck pays to access the area keeps them in business. A truck pays Sh4,000 per trip.
People hiding"You can't tell how many people are hiding in the thickets and mountains watching. This is a dangerous venture," said Mr Ndichu.Makueni Sand Utilisation and Conservation Authority Managing Director Halenishi Yusuf admitted that some traders have been taking advantage of the curfew to carry out illegal sand harvesting.
"Our efforts are frustrated by these traders using curfew hours while others are taking advantage of the boundary issue, pretending to have been authorised by Machakos County to fetch sand," said Ms Yusuf.She said sand in areas like Kalanzoni that has several rivers, including Mbondoni, was on the verge of being depleted.