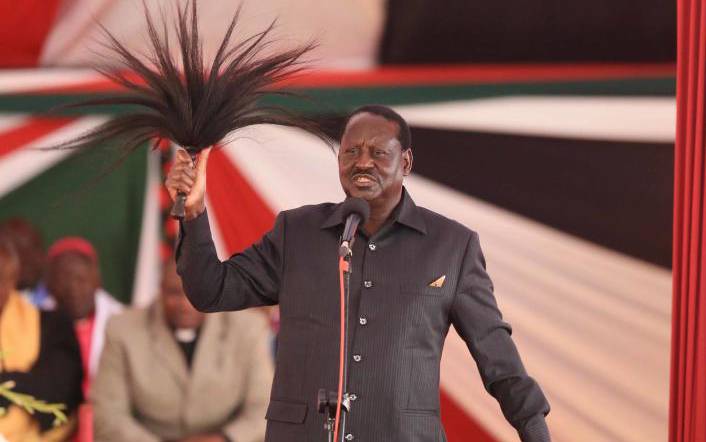 On August 26, 1978, the public viewing of Mzee Jomo Kenyatta's body, who was lying in state at State House, was momentarily halted. The silence that had characterised the occasion was broken.
A former friend had come to pay tribute to a man whose freedom from the colonial shackles he had vehemently championed, and under whom he had been imprisoned.Jaramogi Oginga Odinga entered the room in which Kenyatta's body lay, clad in traditional mourning regalia, and hoisting a black fly-whisk similar to the white one Mzee clutched in his right hand.
Mzee's was more decorated, matching his stature as Head of State.Odinga's sharp voice pierced the air as he sang a dirge in honour of Kenyatta, heaping praise on the late Head of State in proper Luo customary fashion – waving his fly-whisk as he mourned.Forty-two years later, his son, Raila Odinga, would pay tribute to a man with whom they shared a troubled history, eulogising him as a patriot who worked hard to foster unity in the country.In scenes reminiscent of the 1978 event, Raila hoisted his fly-whisk, chanting the same dirge his father sang to honour President Kenyatta.Luo signature
"Eeh wuoyi gi ma ichamo e mari, gi ma odong' to kik igen," cried out Raila, before exploding into the Luo signature "Jowi! Jowi!" dirge chanted to pay tribute to male elders in a more animated fashion than that Tuesday's display when he viewed former President Daniel arap Moi's body.
In Luo custom, the dirge is performed to honour the dead and is ordinarily chanted by peers. It can also be performed in tribute to revered leaders. In 2003, Raila showcased a similar ritual to mourn former Vice President Michael Kijana Wamalwa.Clad in traditional regalia, Odinga would aptly and symbolically cast away the spirit of death with a spear he wielded.
Mr Wamalwa was a year older than him, making them age-mates, according to Luo customs.Kenyatta and Moi were, however, significantly older than the two Odingas, with 21 years between Moi and Raila. Ordinarily, a tribute like the one Raila accorded Mzee Moi would be out of order due to the huge age gap.However, the two Odingas were well within their rights owing to the stature they hold within the Luo community. Gilbert Ogutu, former Secretary General of the Luo Council of Elders, says Raila was the most appropriate person to perform the ritual on behalf of the Luo community.