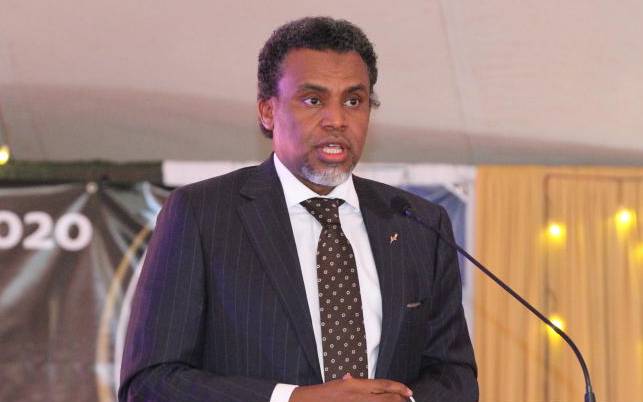 Author: Japheth Ogila 
AfricaPress-Kenya: A section of staff members of the Office of Directorate of Public Prosecutions (ODPP) have tested positive for Covid-19 but are asymptomatic and stable, the DPP Noordin Haji has said.
Haji (pictured above) said in a statement sent to newsrooms this evening that his office rolled out mass testing targeting staff members on July 30, 2020, after which some of his colleagues were found to be having the virus.
"The results so far reveal that some of our staff are asymptomatic carriers and in conformity with recommendations of World Health Organisation (WHO), we shall be moving to the next phase of tracing and treating the affected in liaison with the Ministry of Health," he noted.
Although he did not mention the number of the affected employees, the DPP said that most of the workers had previously been engaged in open court prosecutions. "…majority of the asymptomatic cases which have been detected are mainly amongst officers serving in Divisions that have been participating in open court proceedings."
"This is a clear indicator that those who participate in open court proceedings during this time of the pandemic are highly exposed to the disease because of human interaction that we have no control over within the courts," Haji said.
To remedy the situation, Mr Haji has revealed his intention to engage the National Council on Administration of Justice (NCAJ) to look into the safety of the prosecutors, judges, magistrates, lawyers and members of the public engaged in litigation. He, however, reassured the public that the incident would not paralyse the duties of his office even as they proceed with mass testing
"Our prosecutors have always worked hard and continue to do so to ensure that the wheels of justice do not ground to a halt. I am grateful to all members of the staff for their dedication to service," he noted in his statement.
According to the DPP, the staff members who have tested positive have been directed to self-isolate at home or at any government facility. He said there are plans underway to also allow sick employees to self-isolate at an isolation centre set up at Prosecutors Training Institute, adding that they are committed to following the safety protocols to the latter.
His statement comes in the wake of temporary disruptions of operations at the Mombasa offices after three officers tested positive for Covid-19. The ODPP was forced to recall some of its staff who had gone on leave to fill in for the prosecutors who had tested positive for the virus.
Meanwhile, 538 people have tested positive for the coronavirus on Thursday raising the national tally to 24,411. 514 were discharged from various hospitals across the country bringing the number of recoveries to 10,444 Covid-19 as of August 6, 2020.