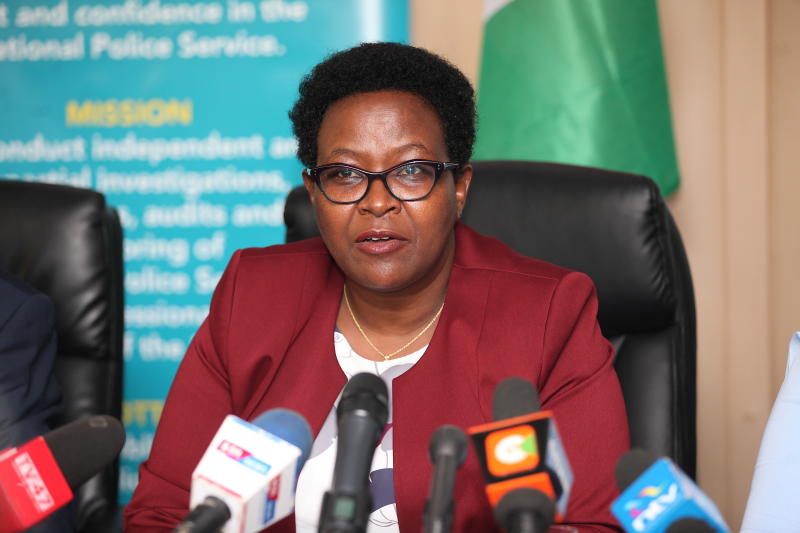 AfricaPress-Kenya: Six police officers will be charged over deaths, shootings and assault of three individuals, the Independent Policing Oversight Authority (IPOA) has said.
IPOA Chairperson Ann Makori in a statement said this followed investigations by the Authority."Following investigation by the Independent Policing Oversight Authority and upon independent review of the case files by the Director of Public Prosecutions, six officers will be arrested and arraigned for various serious offences," said Makori.Administration Police Lotugh Ang'orita will be charged with the murder of Colleta Amondi Ouda, a Secondary school teacher.
The teacher was shot after one of two police officers responding to a burglary incident opened fire as Usigu market in Siaya County."A public inquest on the matter has been going on at the Magistrate's Court but the ODPP (Office of the Director of Public Prosecution) has directed that it be withdrawn in favour of the murder trial," the statement read.
Four police officers – Festus Kiptoo Saina, Boniface Wambura Chacha, Joseph Mwaniki and Nashaon Adera will be charged with assault of Abdilbrahim Noor, causing grievous harm to him.
Noor sustained a fracture in his leg during an arrest near Gateway Hotel in Garissa.Duncan Ndiema Ndiwa will be charged with the murder of 13-year-old boy, Yassin Moyo. Moyo was shot while at the balcony of his parent's home in Kiamaiko, Nairobi on March 30, 2020.
The boy was rushed to Mama Lucy Hospital where he succumbed on Tuesday, March 31, 2020. Moyo was a standard eight pupil at Ndururuno primary school.Director of Public Prosecution (DPP) Noordin Haji approved the arrest of the officer.Makori said that the ODPP noted that the evidence is sufficient to sustain trials in courts of law.
IPOA supports officers in maintaining law and order but will not hesitate to act in accordance with its mandate, on the few bad elements that break the same laws they are supposed to enforce," Makori said.
She added, a police officer shall always attempt to use non-violent means first and the force used shall be proportional to the objective to be achieved, the seriousness of the offence, and the resistance of the person against whom it is used.
"When the use of force results in injuries, the police officers present shall provide medical assistance immediately and unless there are good reasons, failing to do so shall be a criminal offence," the statement read.A police officer who uses any form of force shall immediately report to his or her superior.
Any use that leads to death, serious injury and other grave consequence should be reported to IPOA.Also, it is a disciplinary offence for a police officer to fail to report in accordance with the regulations."Following the orders of a superior is no excuse for unlawful use of force," the statement said.