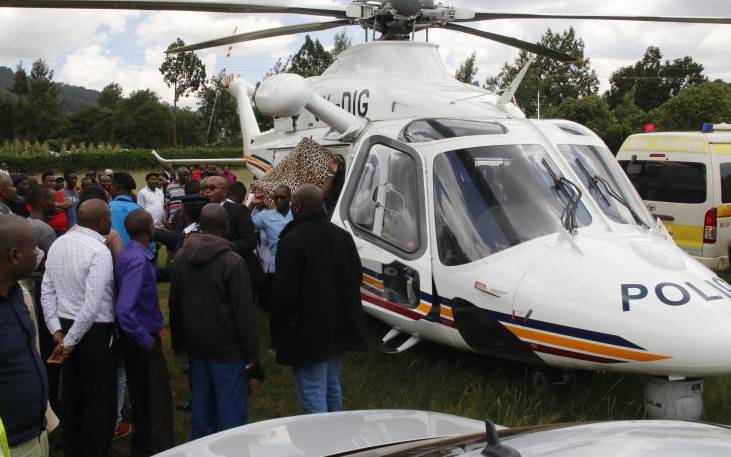 Cabinet Secretary Raphael Tuju is responding well to treatment, doctors said, as reports emerged that President Uhuru Kenyatta ordered his emergency evacuation following a road accident on Wednesday.
Doctors at Karen Hospital said Tuju was stable following serious injuries sustained in the crash along the Nakuru-Nairobi highway while on his way to Kabarak for former President Daniel arap Moi's burial."He woke up well and he is continuing with treatment. Other details are private and confidential," said a highly placed source who requested anonymity.Tuju was being driven in a Toyota Prado when it collided head-on with a 14-seater matatu at Magina. Among those injured were his bodyguard, driver, the matatu driver and 14 passengers in the public service vehicle.
They were all taken to the nearby AIC Kijabe Hospital.In a statement released on Wednesday, the hospital said that three patients had been discharged while seven had been operated on after suffering soft tissue, bone and head injuries.Three patients were in the high dependency unit while the rest were under observation.
Before he was flown to Nairobi in a police chopper, Tuju underwent abdominal surgery at the hospital to stop internal bleeding.His driver and bodyguard were also evacuated to a hospital in Nairobi.
Central police boss Mwarungu Kalimbo said the matatu driver swerved from his lane as he tried to avoid hitting another car and collided with the Prado.It also emerged that President Kenyatta directed the police to arrange Tuju's evacuation once he was notified of the accident by Sports Cabinet Secretary Amina Mohamed.
Amina, who arrived at the scene of the accident about two minutes after it occurred, phoned the president, sources said.At about 6.45am, a chopper that was taking off from Wilson Airport to Kabarak with Inspector General of Police Hilary Mutyambai among those onboard was delayed for about ten minutes after the police chief received Uhuru's call.According to witnesses, Mutyambai told the pilot to wait as he stood on the runway and spoke to Uhuru on phone.
He ordered Police Airwing boss Rogers Mbithi to liaise with officials at Kijabe and fly the injured to Nairobi.