AfricaPress-Kenya: After an unceremonious firing from Citizen TV in 2016, the station's former head of the Camera unit John Marete has gone on to launch a second TV station.
Marete is following in the footsteps of his former boss, royal Media founder S.K Macharia by having multiple media outlets targetting the vernacular market.
Speaking to media, the media boss who runs Weru FM and Weru TV disclosed that he was going to tap into the Kamba audience by unveiling a new TV station Mutongoi TV.
"We will be up and running by the third week of April 2021. Everything is already set up and we are just in the final stages. It will be a purely Kamba station," he explained.
Weru FM and TV CEO John Marete pictured in 2013.
The seasoned journalist explained that the station would borrow heavily on the successful format of Weru TV focusing on health matters, money issues, agriculture, news items and entertainment.
The studios will be based in Machakos, with the station available to view on Signet channels.
Marete further disclosed that upon seeing the success of the Meru broadcasting languages, he sought to expand to the Kamba region where his wife hails from.
"I have a passion for media and I have plans to become the next S.K Macharia," he stated adding that after the TV station, he would also open a radio station with the same name.
He conveyed that he would also expand to have more vernacular TV and FM stations in the Eastern region.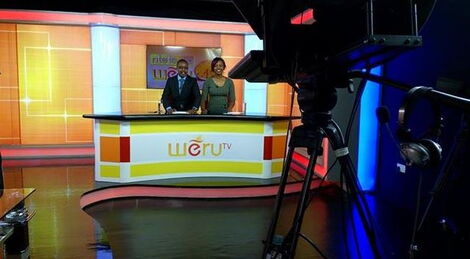 Weru TV studio in 2019.
FACEBOOK
Launched in 2017, Weru FM and Weru TV have managed to draw in hundreds of thousands of listeners becoming leading stations in the Eastern region.
At the same time, vernacular stations command a large piece of viewership and listenership in the country growing from regional to national reach.
Some have even deployed digital strategies to reach native speakers in the diaspora with online availability.