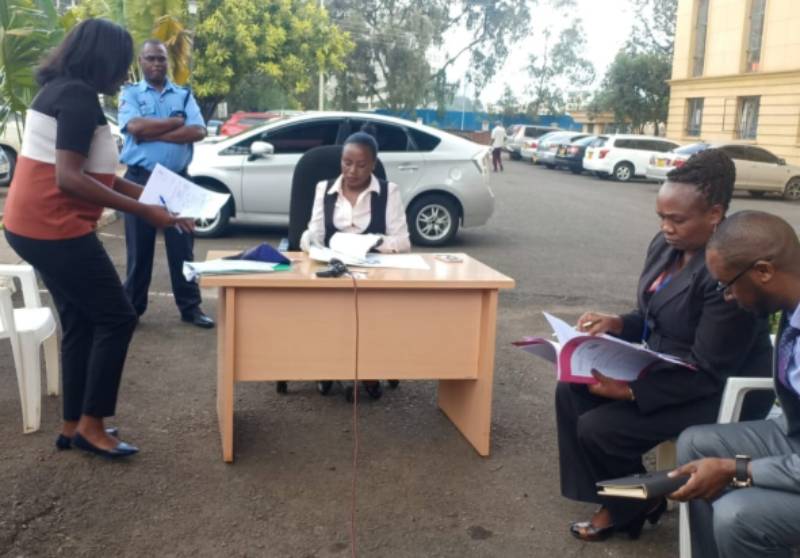 Necessity begets ingenuity. This was the case of a court in Nairobi that was on Tuesday forced to hold proceedings outside the court room in line with the new Judiciary's guidelines.
A Milimani Law Court conducted its proceedings under a tree on Tuesday morning to minimise contact in a precautionary measure out to tame the spread of the highly-contagious coronavirus.Senior Resident Magistrate Muthoni Nzibe led the proceedings as lawyers and the prosecution made their submissions.
Maraga's directives
Following President Uhuru Kenyatta's directive on Sunday that employees be allowed to work from home due to the global outbreak of coronavirus, Chief Justice David Maraga issued guidelines on court operations across the country.In an internal memo sent to the president of the Court of Appeal, all principal judges, presiding judges, registrars and heads of stations, Maraga denied the public an entry into court premises.The CJ said only persons visiting courts to file urgent matters will be allowed access.
According to Maraga, matters involving traffic offences, fraud, theft, assault, corruption, creating disturbance and incitement to violence would be handled at the police station."With regard to new arrests, all cases except serious ones will be dealt with at the police stations in accordance with guidelines to be issued by the Inspector General of Police," he said.
Maraga, further ordered each court to maintain a skeleton staff of three officers. This will include a court administrator and an assistant, who will handle urgent filings at the customer care desk.
The Judiciary has also banned trainings and foreign trips."All conferences, workshops, colloquia, and training programmes are suspended until further notice. There will be no foreign travel for the next 30 days for the staff of the justice sector institutions, whether official or private, save for exceptional circumstances."
The pandemic
The novel coronavirus has infected more than 182,400 people and killed over 7,100 worldwide, according to Johns Hopkins University.
The number of deaths outside China have now surpassed those inside. China's death toll is at 3,226.Kenya has so far confirmed three cases of coronavirus.The Government Spokesperson Col. (Rtd) Cyrus Oguna said yesterday that fourteen other people are still under quarantine awaiting results.Oguna added that all the cases are from outside the country and measures are in place to ensure more new cases are not reported.The deadly virus has led to the lock down of Italy and some cities and towns in Europe.
Some Asians and African countries have closed schools and non-essential businesses, and curb travel in a bid to combat the virus.