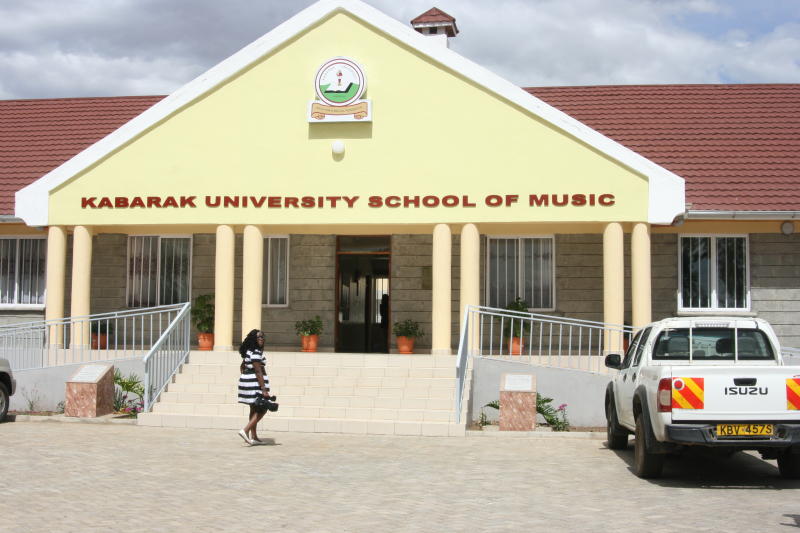 A towering architectural masterpiece complete with a chimney at Kabarak University can easily pass for a posh residential home.
The building, however, is one of the biggest music schools in the region and hosts Kabarak School of Music and Performing Arts.It is in this building that former President Daniel Moi's love for music is scripted as a memoir after he donated his residential house to be upgraded into one of the largest music schools.The school was officially opened on September 2, 2016, by the former President, who pumped in Sh100 million for expansion of the building to host the institution.
The opening of the school marked Moi's 92nd birthday."The late President Moi undoubtedly loved music, and he left a memoir. The building that hosts the school stands at where his house was before he donated it to the School of Music. The house was not destroyed, as evidenced by the chimney but was refurbished and expanded into a masterpiece that has remained a memoir of how he loved music," says Prof Mellitus Wanyama, the dean of Kabarak School of Music.
He says Moi wanted his former residential house to host the best music school in the region and he sent a delegation to visit the University of Pretoria and Stellenbosch University in South Africa to get inspiration of how a great music school should look like.Prof Wanyama says Moi wanted a new crop of musicians to get the best training with the best facilities in a move to nurture musical talent in the fast growing industry.
"This is one of the biggest fully-fledged music schools operating on its own in the region. The number of students is rapidly increasing, with the rising demand for music and art courses," Kabarak University VC Henry Kiplagat says.Prof Kiplagat says Moi's unabated love for music saw him sponsor the purchase of various musical instruments locally and internationally, from traditional instruments from almost every community to contemporary ones.
Best instruments
"He injected Sh10 million into sourcing for musical instruments both locally and internationally because he wanted the students to have access to the best instruments. Students from across the country and neighboring countries come here to study," he says.Kiplagat says Moi loved outstanding hymns choreographed in different voices accompanied with the best instrumentals."The institution is almost four years old and it came at such a perfect time when the music industry was growing fast.
The beauty of the new curriculum is that it nurtures talents and the school could not have been started at a better time," he says.Inside the building, a portrait of former President Moi hangs prominently on the wall, his favourite hymn pinned alongside.The school's library is an array of instruments, including saxophones, flutes, violins, trombone guitar, drums and many others.Students are locked up in their own 'cells', for practical lessons."To achieve better concentration, the students need ample time and they get in one at a time as per the programmed schedule", Prof Wanyama says.
Dr Fredrick Ngala, the Director of Music at the university says Moi's support and love for music had him establish the Presidential Music Commission when he was President. The commission would coordinate performances across the country and encourage playing of political and patriotic songs.To boost embrace of music across the country, he made music an examinable subject in the 8-4-4 curriculum. The system ensured many people were trained in music, including teachers.
"Curriculum development was just a bit of it. He also paid school fees for teachers who wanted to further music and I am one of those beneficiaries. He paid my fees to study music in Maseno and gave jobs to other great teachers and musicians, including late music giant Dr Arthur Kemoli, Prof Mellitus Wanyama of Kabarak and many others," says Ngala.Besides his support to nurture music in primary and secondary schools through curriculum development, Moi was key in supporting music at Kenyatta and Maseno universities, with his latest project being Kabara School of Music.
"He went further to document history, collection and composition of music performances in Kenya, a book he launched in 2010 and is almost in every library across the world. He was the patron of the Kenya Music Festivals for 24 years where he encouraged schools to pursue music and winners would visit State House," says Ngala.