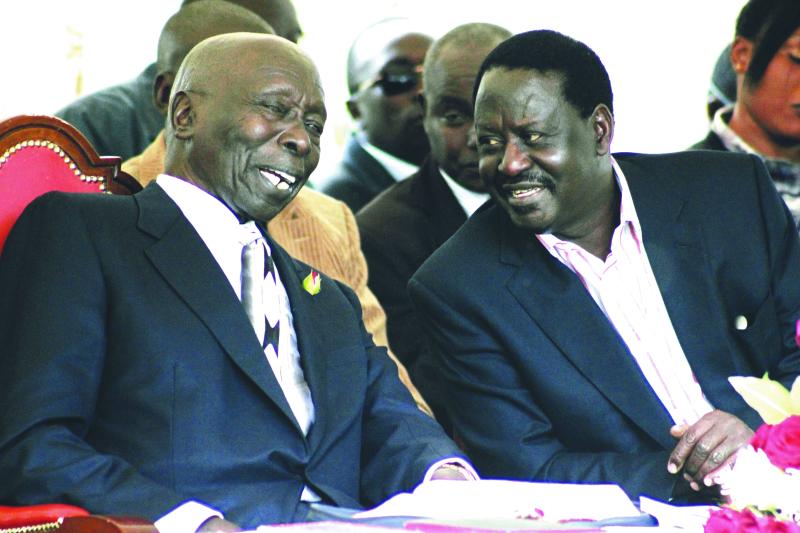 ODM leader Raila Odinga eulogized the late President Daniel Moi as a great leader who promoted unity among Kenyans.
"We have come to say farewell to one of the great leaders of our country. He was one of the freedom fighters of our country. He took over and become the second president of our republic at a time when this country was going through a very major transition," said Raila Odinga.Raila described Mzee Moi as a leader who will be remembered for many great things, but like all humans, he also had imperfections."He made great contributions, but like all human beings, he also had his weaknesses," he said.
"We remember the great things he did, like introducing universal primary education, the free milk – Maziwa ya Nyayo and trying to consolidate unity among the people of Kenya.""He also made some mistakes; I, for example, was one of the victims.  But he was also forgiving, like I'm also forgiving. We made our peace and shook hands; and then we worked together to bring this country a new constitution."Raila also mentioned the Building Bridges Initiative and the lessons that can be employed from former President Moi's leadership towards the project.
"We want to remember him for the good things that he did which we want to carry forward as we try to unite our country and forget the other mistakes he made as a human being. We want to use that experience to bring the Building Bridges Initiative to bring all Kenyans together," said the ODM leader."On behalf of the family of the late Jaramogi Oginga Odinga, who served with Nyayo in the first Legislative Council as elected members in 1957, I am here with my elder brother Dr Oburu Oginga; We convey our condolences to the family of Daniel Toroitich arap Moi. May the Lord rest his soul in eternal peace," he said.
The former Prime Minister was yesterday (Monday) among thousands of Kenyans who paid their last respects to former President Daniel Moi at Parliament buildings, where his body had been lying-in-state for three days for public viewing. The viewing ended yesterday.During the viewing at Parliament buildings, Raila waved a fly-whisk in a scene reminiscent to his father, Jaramogi, who did the same as he paid his last respects to the country's founding President Jomo Kenyatta upon his death in 1978. Jaramogi had served as Kenyatta's vice president, but they fell out thereafter.
Raila Odinga yesterday talked about his family's long-standing ties with the former President Daniel arap Moi, who he described as a freedom fighter.Raila recalled learning about Moi for the first time in 1958, a few years after the country's second president joined the Legislative Council of Kenya (Legco) alongside his late father Jaramogi Oginga Odinga.