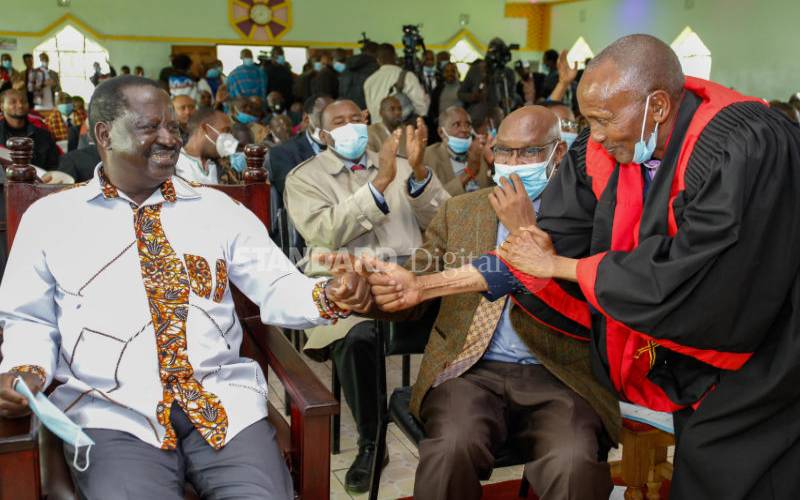 AfricaPress-Kenya: ODM leader Raila Odinga has sustained his attack on Deputy President William Ruto, accusing him of hypocrisy and disloyalty to the President.
Raila and his brigade took the campaign for the Building Bridges Initiative (BBI) Constitutional (Amendment) Bill to Narok County, where he told Kenyans to trust President Uhuru Kenyatta's opinion about his deputy.
"President Kenyatta himself has said that he does not trust some people, among them his DP, to lead as they are a bunch of thieves. You, as a Kenyan, should be very worried of them," said Raila.
The former Prime Minister was accompanied by Environment Cabinet Secretary Keriako Tobiko and a number of lawmakers.
He hit out at Members of Parliament allied to Dr Ruto, who were asserting that he (Raila) had taken the deputy president position in the Jubilee administration, saying he had never joined the government.
"I have not taken the role of deputy president in the Jubilee government. I'm not in government," he said, adding that it was clear to everyone now that Ruto was not fit to lead the country.
Raila, who attended the Sunday service at Rotian Christian Church International in Narok North before addressing a series of rallies in Narok town, said he was a Christian and those challenging his belief in Christianity were wrong.
"I am not competing with anyone nor claiming to be more of a Christian than anybody. God has done a lot for me. I read the Bible from Genesis all the way to Revelations," he told the excited crowd.
He narrated to the congregation how he got the opportunity to study the Bible while in detention in the Nyayo House chambers during the Kanu regime.
On the Constitution (Amendment) Bill, the ODM leader said the proposed changes would address, among other issues, the historical land injustices in the Maasai land.
He said: "Over the years the Maasai have been dispossessed of their lands all the way from Laikipia, to Nakuru, and other areas by colonialists and the same in the coast. These are issues that will be addressed by BBI."
He added that he had never regretted his fight to restore the Mau Forest complex, including the section within Maasai land, saying it was the price he had to pay for championing conservation of the environment.
"I do not regret fighting for Maasai Mara forest conservation," he said in reference to the 2007 successful eviction of the more than 35,000 illegal settlers.
He said he was still proud of his achievement even though he lost the presidency in the 2013 polls.
"When I fought for the Mau Forest conservation after 2007, I was told I would lose my seat. I told them I was ready to go sell mandazi in Kibera and I lost the seat, but I am happy today," Raila said.
The political leaders allied to the DP Ruto, led by Narok Governor Samuel ole Tunai and MPs Johana Ng'eno (Emurua Dikir), Lemanken Aramat (Narok East), Kilgoris' Gideon Konchellah and Korei ole Lemein of Narok South gave the event a wide berth.
Also absent was area Senator Ledama ole Kina, who was elected on an ODM ticket and who has been courting DP Ruto's wing.
Leaders allied to Raila hit out at Ruto accusing him of hypocrisy on his loyalty to President Uhuru Kenyatta.
Their host, Moitalel ole Kenta, lashed out at the DP, accusing him of bias in the distribution of road projects in Narok County.
"As Maasai, we have suffered for supporting you (Raila). The DP has allocated projects worth billions of shillings to areas inhabited by his tribesmen in Narok South, Emurua Dikir, and in Narok East, where the MP is his ally," said Mr Kenta.
Homa Bay County Woman Rep Gladys Wanga affirmed that Raila had stood with the Maasai community through thick and thin, and that the community should reciprocate by voting for BBI.
Her sentiments were echoed by Kajiado Central MP Kanchori Memusi, who said Raila was the Maa community's only saviour.
Mr Tobiko drummed support for BBI.