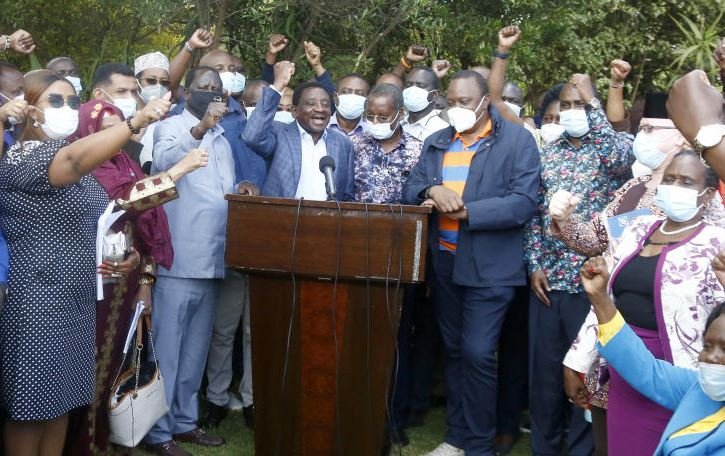 AfricaPress-Kenya: Governors and Members of County Assemblies (MCAs) have made a raft of demands they want met as they converge in Naivasha to discuss the Building Bridges Initiative (BBI) report.
This comes a week after pro-government MPs and senators met in Naivasha and endorsed the document.
President Uhuru Kenyatta and ODM leader Raila Odinga are expected to address the two-day retreat at Enashipai Spa and Lodge on Tuesday.
Another meeting of MCAs is expected to be held at the Bomas of Kenya, Nairobi in the coming days.
Council of Governors (CoG) chairperson Wycliffe Oparanya said they will discuss issues surrounding BBI and devolution.
"Yes, we are meeting in Navasha to review the document to see what role we have to play and make sure that the recommendations touching on money to the counties is firmly anchored in the report," Oparanya said.
He revealed that governors have been facing problems with disbursement of funds to counties and this was one of the issues they will discuss.
"We will be taken through by experts and the president and Raila will speak to us about it. But we want to know what is in the document for governors. Remember, some of us are on our second term, but we still want to play an active role in this country's politics," Oparanya sad.
He said MCAs will play a key role in approving the document during the referendum and that was why they were being engaged.
The MCAs through their County Assemblies Forum (CAF) chairperson Ndegwa Wahome said they want to know how Ward Development Fund will be raised from five to 30 per cent.
"This is one of the agendas that we will be discussing. We want funds to go to the grassroots" he said.
Spend all resources
Wahome wants MCAs appointed as county executive members.
"Just like the proposal in the BBI we want MCAs to be appointed as county executive members. What happens in the national government should also happen in the counties. These should be the benefits of devolution," he said.
The CAF chair added that they want MCAs awarded pension after they serve their term.
He regretted most leaders live in abject poverty after they spend all their resources serving the public.
CAF Secretary General Kipkurui Chepkwony said ward representatives will meet at Bomas of Kenya this week to take a position on BBI.
"All MCAs countrywide are expected to attend the meeting where issues on BBI will be discussed and assemblies take their stand," Chepkwony told The Standard.
He disclosed that they will engage consultants in discussing issues that will inform their stand on BBI.
"There are some issues that were presented to the BBI task force by assemblies during their sittings in county tours, but were not captured in the report presented to President Kenyatta and former Prime Minister Raila Odinga," said Chepkwony.
Nakuru Governor Lee Kinyanjui said yesterday they expected constitutional experts to take them through the BBI report as part of building consensus.
Kiambu Governor James Nyoro said the objective of the Naivasha meeting was to scrutinise the impact of the BBI report on devolution.
Key among issues county chiefs want include full implementation of the constitutional matters touching on devolution, strengthening of the Senate, as well as addressing the administrative barriers in devolution.
Said Laikipia Governor Ndiritu Muriithi: "There are constitutional provisions which are on paper but not in practice. Even as we improve the law, let's also have a conversation on how to implement the provided law."
Other areas MCAs want addressed are proper facilitation of the assemblies, institutionalisation of CAF as well as reviewing MCAs' salaries to mirror the formula used in determining MPs' pay.
Kiambu County Assembly Leader of Majority Gideon Gachara (Ndeiya MCA) and his Kiamwangi counterpart Robert Githongo said MCAs should also be appointed to the county executive just like the BBI report has proposed that the Cabinet comprises of MPs.
"We have gone through the contents and the philosophy of the report is inclusivity; its contents and proposals should also be felt at the county level,"  said Kiambu County Assembly Speaker Stephen Ndichu.
Ndichu also revealed that there will be a parallel Speakers meeting in Naivasha.
Laikipia Deputy Governor John Mwaniki noted that the BBI report proposes to give deputy governors a portfolio, but doesn't address the differences with their bosses.
At least 25 governors are serving their second term and would be interested in knowing what BBI has in store for them.
Take the risk
Constitutional lawyer Bobby Mkangi said if proponents of the report choose to go the popular way, then the over 1,450 MCAs have a huge responsibility to ensure the Constitution of Kenya (Amendment) Bill, 2020 sails through.
Waiganjo Kamotho, another constitutional lawyer said only 24 counties need to support the Bill before being presented to Parliament.
"In Parliament, only 50 per cent of the legislators are required to endorse the Bill, not the two-thirds majority as it is in other legislation. I see this sailing through because the document contains many good things for the country," Kamotho said in an earlier interview.
But before the Bill goes to the County Assemblies, it should go to the Independent Electoral and Boundaries Commission for verification of the one million signatures collected.
National Assembly Minority Leader John Mbadi said he sees no problem in approval of the Bill by the counties.
"No sane MCA will not vote for this Bill that brings more money to the counties. Those few who might do so will just be playing politics, but they will lose big time," Mbadi said.
Makueni Senator Mutula Kilonzo Junior said the BBI draft Bill only needs to be approved by 24 County Assemblies.
"The MCAs are aware that rejecting BBI could easily be construed as rejecting the extra funds. It will be enough fodder for their competitors. I doubt they will take the risk. If they do, they will be a small percentage," Mutula said.
However, Narok Senator Ledama ole Kina called for more dialogue on the document.
[Report by Protus Onyango, Wilfred Ayaga, Antony Gitonga, James Munyeki, Titus Too, Jacinta Mutura and Fidelis Kabunyi]