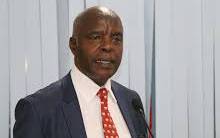 AfricaPress-Kenya: The Makueni County assembly has passed a Sh45 million supplementary budget to help in the fight against Covid-19.
During a sitting held out in the compound of the assembly's premises, MCAs debated and passed the budget, terming it urgent to curb the spread of the pandemic.
The money will be used partly to establish a communications centre at a cost of Sh1.2 million, a healthcare work capacity building (Sh2.5 million), boost  Covid-19sensitisation and prevention (Sh1.7 million) and establish an infection prevention and control system (Sh15 million).
"The Sh45 million has been itemised for mitigation of the disease. Resource mobilisation will take Sh21,000, logistics Sh1 million, monitoring and evaluation research Sh220,000, community sensitisation under the department of devolution, purchase of PPEs (personal protective equipment), enhancing intensive care units, enforcement, water tracking, among others, have sub-allocations of Sh20 million," said Dennis Musyoka, the chairperson of the budget committee.
The ward reps asked various departments assigned roles in the allocations to submit their work plans within 24 hours."This disease is not a respecter of anyone and so we must adhere to health protocols.
We also pushed the finance department to free about Sh8.7 million allocated to various projects that had not been commenced, and with the already existing amount under the emergency kit, we have been able to get about Sh15 million," said Kilili/Kalamba Ward MCA Julius Mutula, The health committee chairperson, Jackson Mbalu, added that residents should be given  sanitisers and masks by the county, instead of it waiting for the national government to act.