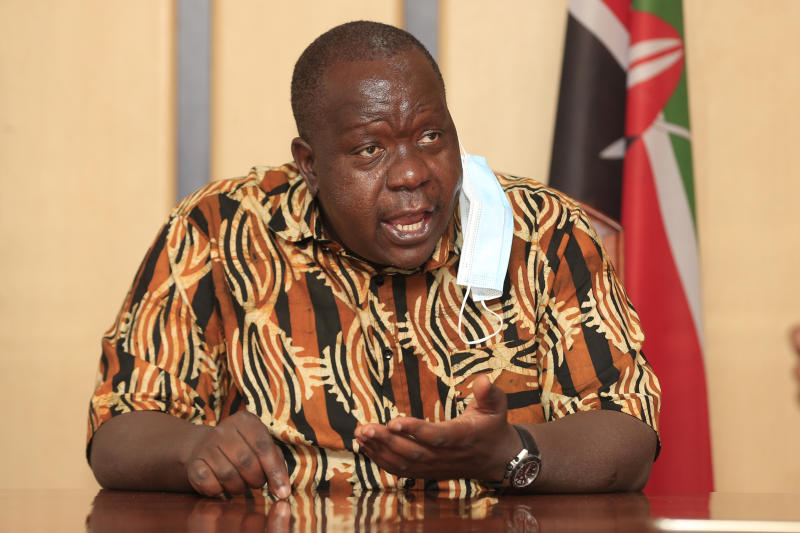 AfricaPress-Kenya: Interior Cabinet Secretary Fred Matiang'i has been a key cog in President Uhuru Kenyatta's government, and as the 2022 succession debate gathers pace, speculation is rising on his next course of action.
Recent happenings in Gusii appear to show that the minister could be consolidating his community's support as he readies for the next national duty, post-Uhuru presidency.
And as the fallout between the president and his deputy William Ruto comes to sharp focus, and leaders jostle for vantage position in the next power dispensation, observers are watching to see what role he will play.
In key recent events that thrust him on the path to occupying the leadership mantle left by former Cabinet Minister Simeon Nyachae, the Gusii Council of Elders and a section of politicians from the region endorsed him as the undisputed kingpin for the community. He will soon be crowned as a community elder.
Dr Matiang'i appears keen to consolidate the support of 1.2 million voters in the region, and the endorsement by local leaders who attended the event at Kisii Agricultural Training Collegem has triggered talks of the possibility of the CS angling for a big political seat amidst calls to have him go for the presidency in the 2022 General Election.
There is no doubt that Matiang'i is first among equals in President Uhuru Kenyatta's Cabinet.
Oversee the delivery
From a high school teacher, the scholar has risen to become a powerful Cabinet secretary after he was appointed coordinator of government business in the Cabinet.
This thrust him right in the middle of the president's flagship Big Four Agenda which are the legacy projects.
Under the National Development Implementation and Communication Cabinet Committee, Matiang'i is tasked to oversee the delivery and oversight of national government development programmes and foster co-ordination and harmonisation in implementation.
Nakuru West MP Samuel Arama says Matiang'í is ripe to take over from Uhuru in 2022 since he has experience needed to run the government.
"Look at everywhere he has headed, he has a midas touch and always leaves success and a trail of good results; he is the person Kenyans need to take up from where Uhuru will leave the country's development agenda,"said Mr Arama.
The Interior CS has in the past hosted ODM leader Raila Odinga in Gusii after ending a frosty relationship.
Numerous trips
During the events, Raila spoke highly of Matiang'í, with insiders hinting that the CS's name has featured in the ODM 2022 talks.
The significance of the CS's installation is that as the community spokesperson, he could easily influence the voters in Kisii, Nyamira and the Gusii in the Diaspora.
The CS has received the support of politicians from the region including Kisii Governor James Ongwae, Woman Representatives Janet Ongera (Kisii) and Jerusha Momanyi (Nyamira), Senators Sam Ongeri (Kisii) and Okong'o Omogeni (Nyamira).
Matiang'i also enjoys the support of professionals from the region.
The CS has been supporting construction of schools and local churches, a strategy that politicians use to endear themselves to the electorate.
His numerous trips to the region could signal the beginning his political career.
Matiang'i has been vocal in calling on leaders from the community to forge unity of purpose and ensue that they deliver their promises.
Last week while touring schools in the region, the CS said he has been meeting local leaders in a bid to ensure completion of government development projects.
During the home-coming party of Deputy Commissioner General of Prisons Florence Omundi, the CS revealed that local leaders want Bobasi Constituency split.
"The first BBI report had encompassed splitting the constituency. You know very well that I am among those people in Government that make decisions, I will not sleep. I was not given my job to go loiter in Nairobi, I am working closely with your political leaders to help us achieve some of our development goals," he said.
The CS called for patience as they push the community's development agenda.
"Several of our children have attained the highest level of education. Since Independence, our people have worked hard to ensure that our children go to school," he said.
"High unemployment levels largely affect our community because several of our people have gone to school. We must learn to respect one another as we strive to build our country and continue to push our agenda to unite our people. Challenges are there but we must remain united and trust in God," he added.
The CS noted that the community has produced great leaders who have shown exceptional headship skills. "We are very brave people. Nobody can purport to scare us because we always stand for the truth and work with self-assurance," he said.
He revealed that he has been working closely with key leaders from the region, including professionals to implement development projects in Kisii and Nyamira counties. "I will keenly listen to the wise counsel from my seniors," he said.
Restore sanity
Prof Ongeri and Ms Ongera said there is need to accommodate all leaders. "It is either they are with us or they are planning to be with us. We may not have any other opportunity other than now. The era of always opposing that which is good for the community is long gone. Let's us rally behind our leaders," said the Kisii senator.
Ms Ongera called on leaders to rethink their strategy and rally behind the CS, who has shown exceptional leadership skills fit for a national leader.
"There is no need to always be at logger heads. We can sit and chart our political path as a community. There is hope that we are headed in the right direction under CS Matiang'i," she said.
Matiang'i rattled many with his abrasive style of leadership, and his efficiency in handling national issues saw him gain the president's trust.
In December 2015, the Head of State turned to him to restore sanity in the Education sector following high cases of cheating in national examinations.
Within a year at the helm, he had sorted the mess at the Kenya National Examinations Council.
Born in Borabu, Nyamira County, the career academician and staunch Seventh Day Adventist also consulted for global organisations before he was thrust in the limelight in 2013.