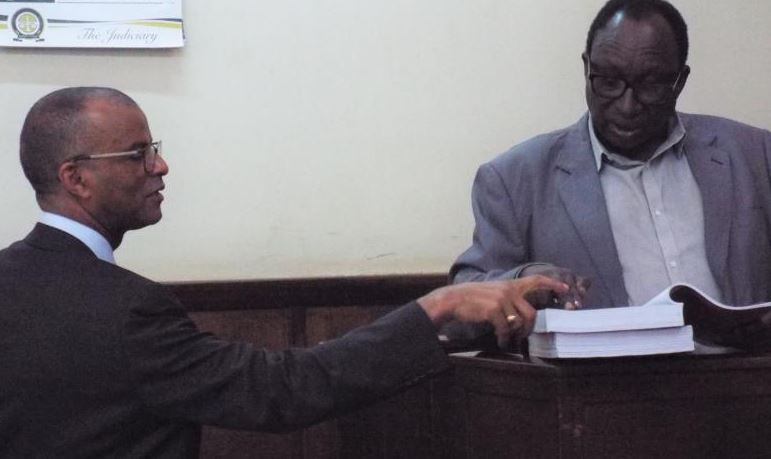 Two relatives faced off at the Eldoret High Court in the hearing of a succession case where the children of former Keiyo North MP William Murgor are fighting over his estate worth millions of shillings.
The late Murgor's first born son, James, who is also the area MP, has been sued by his sisters and step-siblings for allegedly failing to equitably share their father's vast estate that is spread across Elgeyo Marakwet and Uasin Gishu counties.The case that has been filed by Enit Murgor is before Justice Hellen Omondi.
Lawyer Philip Murgor, who is James' cousin, on Tuesday took him to task to explain how he apportioned himself the lion's share of William's estate at the expense of the rest of the beneficiaries.James was hard-pressed to produce evidence that showed he had been granted power of attorney to manage his father's estate.
The court heard that documents and signatures used by the MP to apportion himself a large share of the property were forged.The MP was at pains to explain to the court how he allocated himself prime agricultural land in Kapkoi village in Keiyo North worth millions of shillings.
"It is true that I have 70 acres of land, which I was gifted by my late father as the first-born son in the family, whose current market value is Sh56 million," said James.
Philip told Justice Omondi that the document the MP was relying on purporting to be a power of attorney bestowed on him by his father had been forged by the accused.Tempers flared at one point as Philip addressed the legislator using his professional title."Please stop referring to me as honourable MP. Just refer to me as James lest you make me angry," the accused shouted.
Justice Omondi was forced to intervene and she cautioned the MP to keep his emotions in check. She advised him to accept the title that Philip was using because it was his right as the representative of Keiyo North."Dr Murgor, you must accept that you are an elected Member of Parliament and there is no foul in being referred to by that title by the complainant's lawyer. I expect that you keep your emotions down lest you lose track of the questions that you are being asked by the lawyer," said the judge.
James said some of the complainants had been locked out from sharing his father's estate because they were not his biological children."Mzee did not include some of the children in the share of his estate before he died because he felt they were not his biological sons and daughters.
There was no way we could have gone against his wish," the court heard.The property in dispute, which was left behind by the long-serving Kanu MP before his death in 2006, includes agricultural land and prime plots in Iten and Eldoret towns.
William was married to five wives: Soti Murgor, who had five children; Rosa Kimoi (nine children); Rosalina Murgor (six children); Anne Murgor (eight children) and Philomena Murgor who had one child.Further hearing of the case was scheduled for April 3 and 23, respectively.