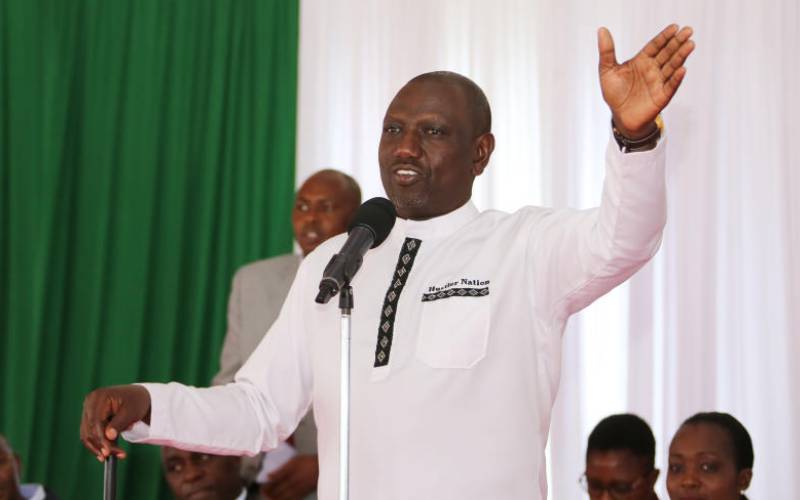 AfricaPress-Kenya: A proposed law seeking to provide guidelines for the planned June referendum has provided a fresh battle ground for rival camps in the National Assembly.
MPs allied to President Uhuru Kenyatta and ODM leader Raila Odinga clashed with their colleagues in Deputy President William Ruto's camp over the Referendum Bill, with one side pushing for a 'yes or no' referendum and the other calling for a multi-question referendum. Yesterday, Ruto's allies kept up pressure to amend the National Assembly Bill No.14 of 2020 to allow for a multiple-question referendum. The House Business Committee has prioritised a Bill by the Justice and Legal Affairs Committee over one by the Constitutional Implementation Oversight Committee (CIOC) that proposed a multiple-question plebiscite.
MPs in Ruto's camp are pushing the House to allow members to bring amendments, including lifting certain clauses from the CIOC Bill so the public can vote for each and every item in the Constitution of Kenya (Amendment) Bill, 2020 set to go for a referendum mid this year.
National Assembly Minority Whip Junet Mohammed said those pushing for a multiple-question referendum are free to bring their own amendments instead of seeking to mutilate the proposed changes.
"I happen to be one of the promoters of the BBI Bill. We went out there and collected one million signatures and took them to the IEBC with the draft BBI Bill. After all that, somebody wakes up from his slumber and tells me that he wants to subject that Bill–a Bill that is by popular initiative from collecting one million signatures–to a multiple choice question.
"What has stopped them from going to the public to collect one million signatures so that they can amend the issues that are not good that the BBI Bill has proposed? The popular initiative is open to everyone. It is not open to me only," said Junet.
The Suna East MP said they will either win or lose at the referendum but they will not allow it to be subjected to a process that may end up altering the ideas of the promoters.
Majority Leader Amos Kimunya said: "We need to be very clear. If it is a Bill, it can only be good or bad, which is what we do here. When we come to the Third Reading of any Bill, the question is always whether we have approved the Bill or not, especially constitutional ones."
He, however, said that not all referendums come in the form of a Bill, and they can be subjected to a series of questions.
But Garissa Township MP Aden Duale described proposals by the CIOC as 'very good' and suggested the inclusion of certain clauses from the team chaired by Jeremiah Kioni.
Mr Kioni told the House that his team and that of JLAC had com up with a harmonised report dropping some of the contentious proposals. The joint team agreed to drop the proposed multi question referendum, signalling an early win for pro-BBi team. However, the Ruto team continued to push for amendments to the Bill.