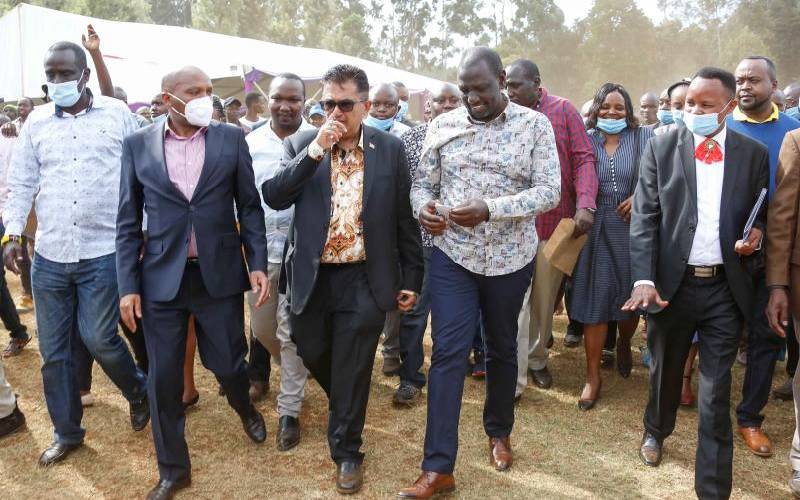 AfricaPress-Kenya: Deputy President William Ruto's whirlwind tour of Meru County has shown just how much he seeks to retain the church as a central pillar of his 2022 presidential drive.
The visit saw him engage in a number of church activities including funds drive and promises to return for more religious charitable activities.
Yesterday, he concluded the tour with the message that he was ripe to succeed President Uhuru Kenyatta having worked under him.
Ruto said he was best suited to take over from Uhuru once he retires to continue with the development agenda that they had started.
The DP was the chief guest when Methodist Church of Kenya (MCK) Presiding Bishop Joseph Ntombura installed Nicholas Nteere as the new bishop of Kaaga taking over from Catherine Mutua whose ordination the Deputy president had attended eight years ago.
"The Bible tells that as we are labouring in this world, we must remember to support the weak," he told the congregation at the MCK grounds in Kaaga, Meru town.
Ruto compared the Jubilee government predicament in its last two years to the Biblical story of King Saul and his successor David.
He told the congregation at the MCK grounds that just as Saul faced an angry uprising in a sensitive period of Israel's kingdom, he was facing an angry crowd of poor voters who will be his priority when he is elected.
"You have seen them here, the boda boda riders and other hustlers. They are noisy and carrying placards. That is the crowd which we shall sort out shortly," said Ruto.
Ruto also defended his association with the church saying that he supported it as a important social pillar and not because he was seeking to be elacted. "We associate with the church because we are Christians first and everything else later," he added.
He had earlier in the day attended another ordination of Archdeacon Francis Ngutiku at the St Nicholas AIPCA church in Abothunguchi West, Central Imenti.
The DP landed in Meru on Friday where he started by opening St Lucy Mission Hospital in Igoji, South Imenti which was recently renovated.
The DP is said to have held a two hour closed door meeting with 100 Catholic clerics under the Meru Catholic Diocese at the Igoji parish headquarters.
"I am already a very rich man and would be stupid to incite a class war in the country. What we are fighting for is the opening up of the economy to make all Kenyans financially sound," a source who attended the meeting disclosed.