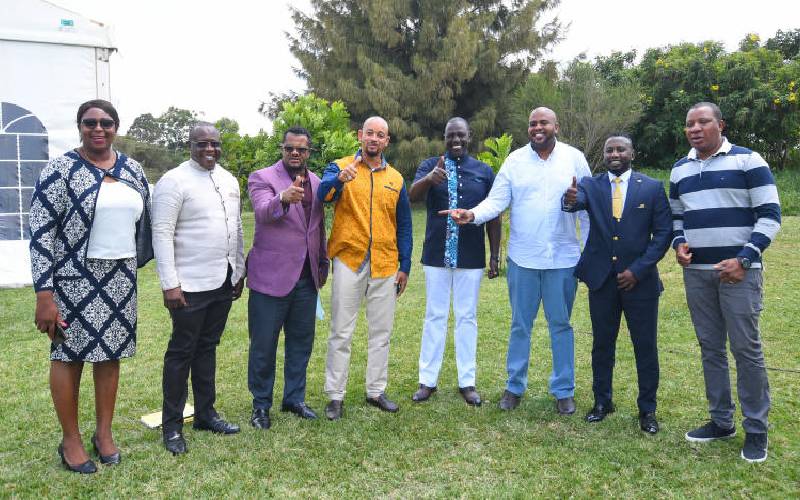 AfricaPress-Kenya: Two political heavyweights seem to be gravitating towards each other after they separately ran into headwinds in their relationship with the president and his allies.
Yesterday, Deputy President William Ruto suggested that he was open to a political alliance with ODM leader Raila Odinga in the run-up to the 2022 General Election.
Ruto and Raila worked together during the 2007 General Election. Raila's brother Oburu Oginga, earlier this month, said there was nothing stopping the two politicians from working together.
The trigger to the fresh political posturing seems to be a push for regional parties, including one for Coast region, which the President reportedly backed during a meeting with three governors from the area.
Yesterday, Ruto claimed that some powerful individuals were pushing for formation of "tribal political parties" as part of a larger political scheme to frustrate his presidential ambition and that of ODM leader Raila Odinga, by blackmailing them into backing certain regional leaders.
Speaking during an interview on Radio Citizen, the DP indicated that he was ready to exit Jubilee Party and contest for the presidency on United Democratic Alliance (UDA) party ticket, citing the sustained push to have him and his allies kicked out of the ruling party.
Blackmailed into endorsing
"They have openly said that they don't want some of us. If it gets there and there are no chances of us agreeing, then we will join UDA. This is a party we know that we have worked with. The same way we built Jubilee into a national party, we will use the same experience to build UDA into a national party," he added.
At the same time, ODM said it will not be blackmailed into endorsing political leaders coalescing around perceived tribal bases.
National Super Alliance (NASA) co-principals have been pushing Raila to back one of them, and have consequently ganged up to form One Kenya Alliance after he rebuffed their demands.
The Orange party declared that no formation will win the presidency without the support of either Ruto or Raila in 2022 elections.
The latest implosion has been triggered by claims that some senior state operatives are trying to prop up the emerging coalition that brings together Amani National Congress leader Musalia Mudavadi, Ford Kenya's Moses Wetangúla, Baringo Senator and Kanu boss Gideon Moi and their Wiper counterpart Kalonzo Musyoka.
This comes a day after the president held a meeting with governors Ali Joho (Mombasa), Amason Kingi (Kilifi) and Salim Mvurya (Kwale) at State House, Nairobi, where talk of formation of a coastal party reportedly featured.
The plan, according to some quarters, entails locking out Raila from his perceived strongholds of Coast and Western by propping up regional kingpins.
The scheme also seeks to block Ruto from penetrating the regions to dent his national support base. Already, Kimilili MP Didmus Barasa has indicated he could soon ditch Ruto in favour of Mudavadi.
Some of the Coast governors, especially Kingi, have been agitating for formation of a regional outfit, a move that could weaken ODM's support in the region.
"Currently, there is clamour to form tribal political parties. Ford Kenya is being told to be a party for Western; people are told they have to be members of ANC. In Ukambani they are told to be all in Wiper," said Ruto.
"In Coast, they are being pushed to form their regional party. Those pushing them to form tribal parties want Kenya to go back to the era of tribal politics. They are the enemies of this country," the DP said.
The DP ruled out working with leaders pushing for formation of regional parties, saying the only outfit with a national outlook was ODM, further giving another indication that he could consider working with Raila.
"Those we cannot work with are those who want to take us back to tribal political parties. Anybody who is ready to work with us to fight poverty and unemployment is welcome. We are ready to work with anybody," he said.
"Many people think that we have differences with Raila, these are political differences. Where I agree with him is that we both believe in national political parties. His other colleagues don't believe in national parties, they believe in tribal political parties, where you form a tribal party and join hands with another tribal party," he added.
And in a statement yesterday, ODM Secretary General Edwin Sifuna said Raila was already working on a new alliance and ruled out working with politicians trying to blackmail him into endorsing their presidential ambition.
He said the party has resolved to drop tribal politicians whose focus over the years has been "what they can extract from our sweat, and from the country."
"Our record of building coalitions, building bridges with perceived enemies and propping up younger and energetic leaders speaks for itself. We are working on one again," said Mr Sifuna.
Realignments
"Party supporters and members need to look forward to a new order and let those coalescing around their perceived tribal bases in the hopes of blackmailing others to endorse them be," he added.
Mudavadi, Kalonzo and Wetangúla have been pushing Raila to back one of them on the basis of their NASA pre-election agreement where the ODM leader was to serve one term then back one of the partners for the top seat. Raila did not win the 2017 presidential election.
ODM chairman John Mbadi said those seeking to form alliances that involve parties that cannot win elections beyond one community were wasting their time.
He maintained that it is only the formations by Raila and Ruto that will shape President Uhuru Kenyatta's succession.
"What is going to come out of 2022 is not yet clear now. There are going to be realignments. But what we want to repeat is that any formation without Raila or Ruto will not win the presidency," he said.
But Cotu boss Francis Atwoli dismissed claims that Uhuru was out to undermine certain politicians while propping others in his succession plan.
Mr Atwoli said that those forming political parties with hopes of getting to the negotiating table should go back to the drawing board as having an outfit alone is not enough.
"People think that if they have a party then they will have to sit on the high table. First and foremost, you must have people. People can from party but still tantamount to nothing," he said.
"I don't think Uhuru has any plan to undermine anybody, his focus now is on the Building Bridges Initiative (BBI). The problem we have is that there are people who want immediate results. Politics is not like that. It is like rainfall, when it pours, the water will find its on course," he added.
The Coast governors are reported to have told the president that the region was not represented when he met seven party leaders at State House a couple of weeks ago.
"No government can be created without coalitions. The leaders are schedule to convene another meeting with the president. He was excited with the idea of the regional party," said an ally of one of the governors.
They argued that since they will still be supporting Raila for the top seat, the new party will lock Ruto out.
"We don't want a vacuum where the DP will get traction. We must lock the ground with a new party. We will support Raila but from outside not inside. With this everybody is protected," he said.