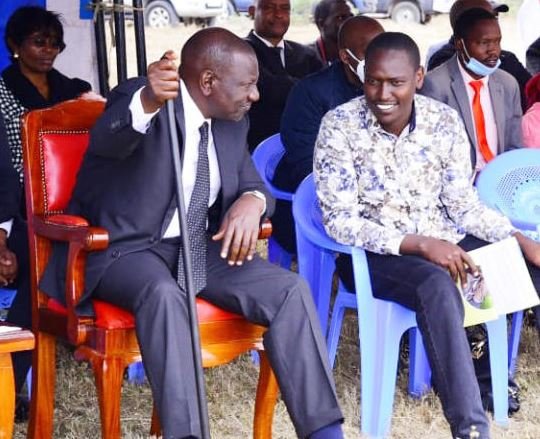 AfricaPress-Kenya: Deputy President William Ruto has put proponents of the Building Bridges Initiative (BBI) on notice, saying he will oppose the recently unveiled constitutional reform proposals if they do not stop chest-thumping.
In the message delivered in the heart of central Kenya, Ruto (pictured left) said he and his supporters would stop the BBI process if its supporters turn a deaf ear to his offer for negotiations to avoid a contentious referendum.
"If they do not stop their reggae, and if they do not stop their bravado, the people will stop this reggae," Ruto said. "Do not force us and do not tell us nobody can stop reggae. If you use force, Kenyans will reject it."
Speaking in Nyeri and Kirinyaga counties where he held separate events, the deputy president said he did not need to explain himself to anyone on what he was doing in the region.
He instead reminded the crowd that he was elected on the same ballot with President Uhuru Kenyatta. "I am the servant of the people, voted for by Kenyans, and I can go to any corner of this country," he said.
Ruto said he was rooting for a national conversation that will lead to a consensus in line with the wishes expressed by President Kenyatta at the Bomas of Kenya. "We should not coerce Kenyans to support a document that they have not even read. Copies should be made available for them to carefully read before making their informed decisions."
He said those opposed to changes in the document are intent on creating division among Kenyans. His opponents, he added, are also seeking to benefit from the funds set aside for the referendum.
"We have no problem with the BBI report but what we are asking is the inclusion of issues affecting ordinary Kenyans. This is just like the way it has addressed the concerns of leaders through the proposed creation of positions of prime minister and two deputies," the DP said.
In Mathira, Ruto defended MP Rigathi Gachagua saying the criminal justice system was being used to harass and intimidate him. "Those using the system to carry out a political agenda should come to the political arena. It is criminal to use the justice system to further a political cause. You should stop and come battle politically."
Gachagua also spoke on his recent arrest over alleged tender scandals and Sh12.4 billion that was deposited in his accounts.
"I have voted for the president four times. How is it that I am now being harassed by the same Government that I have supported with my own resources? I will answer all the questions about how I made the money, but I will not tell them how I spent it because it is my money," he said.