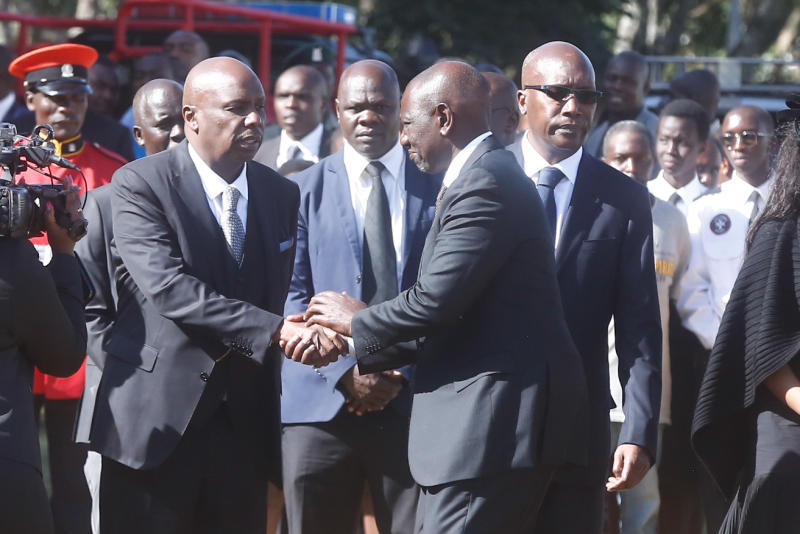 Deputy President William Ruto yesterday called on Kenyans to honour former President Moi by shunning divisive ethnic politics.
Tying the unification call to his working relations with President Uhuru Kenyatta, Ruto said that the two came together as a way of uniting Kenyans "after years of divisive politics".
"We must emulate the former head of state who has a very rich legacy in terms of leaving the country united. That is the reason we sat down with the president and decided the best way to unite the country is folding all these political parties to form Jubilee," he told mourners at the burial of the former President who died last week.Ruto added: "Moi was a great African statesman who crossed the floor in Parliament and dissolved Kadu to join Kanu for the sake of unity of the country. Since then his philosophy was that of unity and peace."
Describing himself as one of the last-borns of Moi's political school, the DP said he was bidding farewell to "a legend of unity and a great African statesman."Ruto praised Moi for his love for education, saying the former head of state believed that education was the greatest equaliser and often preached on the need of taking children to school.Ruto, who avoided directly talking about politics, said he was proud of what Moi had achieved during his 24-year Presidency and during his period as vice president.
On his part, Amani National Congress Party leader Musalia Mudavadi eulogised the former president as a great leader who honed his political skills.Mudavadi said he was heavily indebted to Moi, having been appointed to the Cabinet at a tender age following the death of his father Moses Mudavadi.
"I was the last vice president to serve under Moi; the family connections dates backs to several decades ago. I was appointed Finance Minister at the age of 33. Moi has been like a father to me and I can only celebrate the good man he was," said Musalia.In his tribute, former Vice President Kalonzo Musyoka said Moi would be remembered for fostering peace in the neighbouring countries and in Africa."Many have said Moi was a good teacher of politics but I also credit him for ensuring that peace in African continent prevailed," said Kalonzo.Bungoma Senator Moses Wetang'ula also paid glowing tribute to the former president, saying it is Moi who initiated him to politics by nominating him to Parliament.