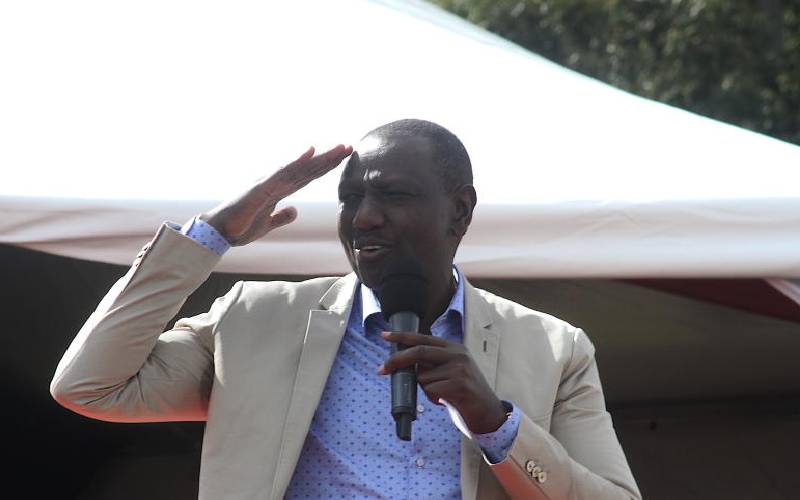 AfricaPress-Kenya: Deputy President William Ruto is walking a lonely path to State House as his main rivals plot separately to vanquish him.
The renewed camaraderie between President Uhuru Kenyatta and ODM boss Raila Odinga and the emerging One Kenya alliance of four political rivals limit Ruto's options.
While the President is again cosying up to Raila, Musalia Mudavadi (ANC), Kalonzo Musyoka (Wiper), Gideon Moi (Kanu) and Moses Wetang'ula of Ford Kenya are building a new 2022 political force.
There is talk the Uhuru-Raila axis could team up with the One Kenya alliance in a well-knit succession plan to block Ruto's ascension to power, sending him to political oblivion — for the time being.
The President, who had seemed to be distancing himself from Raila, is now said to be best buddies with him again. He is also propping up the One Kenya Alliance in a juggling manoeuvre.
There had been increasing talk of a Raila-Ruto alliance, as both were being alienated by Uhuru's operatives. Such an formidable alliance would complicate if not kill the strategy for Uhuru and the One Kenya Alliance.
What drove them together again — political affection or fear — is yet to be unravelled and told.
The President is expected to try to prevail upon Raila and the alliance to eventually join forces.
This would undermine Ruto's chances.
On Sunday, former Cabinet Minister Franklin Bett said the President was deliberately 'juggling' the One Kenya Alliance and Raila before he finally pushes them to the negotiating table.
The Building Bridges Initiative referendum is expected to approve the expansion of the national Executive, creating additional posts at the helm to be shared by the Raila and the One Kenya Alliance.
"I am seeing a situation where there will be negotiations between Raila and One Kenya with the President playing an active role in the background when the juggling settles," he said.
Raila worked with Musalia, Kolonzo and Wetang'ula in the 2017 polls in the Nasa coalition.
However, the coalition appears to have collapsed — and exists mainly on paper — after the falling out in which Nasa principals accused Raila of deceit and conmanship.
Bett said that while it is too early to predict 2022 coalitions, "the Deputy President is walking a tightrope.
"Ruto is a lone ranger, it is quite tough for him going forward," Bett said, insisting that his options are thinning out.
With limited options and without key regional bigwigs available for alliance building with him, the DP's presidential ambitions could go up in smoke.
Initially, the One Kenya alliance triggered jitters in Raila's camp, with his allies claiming the outfit was being propped up by some of the President's men to thwart Raila's 2022 fortunes.
However, with Ruto being the 'common enemy', the President's secret night meeting with Raila at his Karen residence last week could have calmed the waters, leaving the DP even more estranged.
Political analyst Herman Manyora told the Star all the political schemes at play aim to block Ruto's State House bid.
"The One Kenya Alliance will converge with Raila. Ruto will then face a combined force in 2022," the University of Nairobi lecturer said.
Manyora said unless Ruto restrategises to rebuild his hustler nation —  which, he said, has been successfully dismantled by his rivals — his dismissing 'tribal leaders' will backfire.
"He (Ruto) must appreciate that Kenyan politics is based on tribes and their chiefs. Currently, Ruto does not command the following of any other leader of a tribal bloc except his Rift Valley," he said.
Jubilee deputy secretary general and Cherangany MP Joshwa Kutuny, a Ruto critic, said the DP faces the toughest of choices in navigating the shifting political terrain.
"Ruto is a man at the crossroads. I see a man who is hopeless and a lone ranger," Kuttuny said, adding the DP's camp could have been stunned by the  Raila-Uhuru rapprochement.
"For a long time, he has adopted scavenging as his survival tactic. He has been the hyena waiting for the hand to fall. But it appears the hand may not fall any time soon. He looks like someone who never expected what is happening," he said.
Kutuny said the DP could be erased from the political scene.
"There is a possibility of his not even being the opposition leader in 2022. In fact, he  could be sent to political oblivion for some years," he said.
Right now, he (Ruto) doesn't need to underestimate anyone, anyone can become president, he needs to step out and build more friends, Kutuny said.
With the 2022 political landscape shifting fast, critics say the DP is still not doing badly, despite his opponents' dirty tricks against him.
There are concerns Ruto's 2022 presidential run could be jolted by the absence of key regional kingpins in his campaign machine.
Unlike his opponents, Ruto has assembled a team of relatively youthful politicians — without key regional heavyweights — attempting to play national politics for the first time.
His strategy has largely failed in several recent by-elections where known regional chiefs have stamped their authority to ward off his penetration of their territories.
For instance, during the March 4 by-elections, Ruto's United Democratic Alliance-backed candidates lost in Matungu and Kabuchai in Machakos.
The Deputy President, who says his hustler nation is the biggest ever political movement in the country, has remained bullish saying with God and the millions of his supporters, he will turn the tables on his rivals.
He has blasted the One Kenya alliance bigwigs as basing their politics on ethnicity and tribal kingship.
"There is a perception in Kenya that unless you are working with so and so, who is the son of so and so, and unless you are working with leader x who is the tribal leader of that group, you are working alone. No." Ruto said in a TV interview last week.
Boasting of the support of more than 140 MPs, the DP trashed the credentials of the One Kenya leaders, saying they have no national support to match his political muscle.
"Now tell me, between this gentleman the hustler, who can put together 140 MP and the guy who can put together 20 MPs, who is alone? Surely, there is no political formation in Kenya larger than the hustler movement," he said.