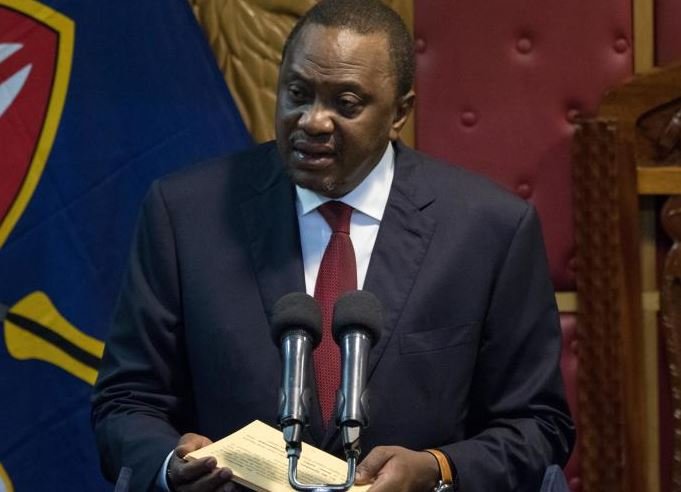 Author: BETTY NJERU
AfricaPress-Kenya: President Uhuru Kenyatta will be taking upon the stage this afternoon at 2.30pm yet again to address Kenyans on a myriad of issues.
Thursday's joint sitting of the National Assembly and the Senate will be a unique one, happening under strict adherence to social distancing rules and other Covid-19 protocols.
It will also be Uhuru's second-last State of the Nation address, as his presidential term nears the end.
In today's address, coming exactly one year and seven months after his last, the president will not only be facing an uphill task of answering Kenyans on whether he has kept his promises, turned over the burgeoning debt but also a ravaging pandemic and divisive politics.
Kenyans are rife with anticipation with crowds forming in various towns as early as 9am, all eyes on the big screens and President Uhuru.
Some of the key issues the president is expected to give priority and also covered here include; BBI Report, Covid-19 Pandemic, Economic Recovery, Education (Schools re-opening), Universal healthcare coverage, Big-4 Agenda and the insistent fight against corruption.
Here is what residents from various towns expect from the address;
Kakamega
Residents who spoke to KTN News want the high cost of living brought down, and that Uhuru addresses how the government will cushion Kenyans from the economic crisis.
They are also worried that there is little or no money in circulation, hence affecting their day to day livelihoods.
"Saa hii hakuna pesa kwa wananchi. Tunataka kununua vitu kwa bei rahisi maanake mapato yetu yako chini. (We are asking the president to bring down the cost of living and make it affordable)," a Kakamega resident told KTN News.
Nakuru
Nakuru residents want President Kenyatta to address issues emanating from the BBI report, and articulate the roles of women and persons with disabilities.
"We want the president to be very clear on the role of women and persons with disabilities because they have been neglected. Women should be considered in the BBI," one said.
"We also want Uhuru to address the governors issue because we don't want a scenario where governors are misusing their powers."
His sentiments arising from a recent governors' meeting in Naivasha where they proposed a raft of changes to the BBI document, among them the introduction of deputy ministers who would be picked from Parliament, and a Senate that would have more powers over the National Assembly.
The residents also want the president to address the issue of schools reopening for the remaining classes, whilst touching on development.
"We also want to know what the president is doing in terms of development. There are several stalled projects," Macharia noted.
Mombasa
Those from the Coastal region largely want the president to give direction on matters education.
"Tunataka Rais atupe mwelekeo katika elimu (We want the president to give us direction on matters schools reopening. Will the learners at home sit their exams at the same time as those already in school?" one resident posed.
Nairobi
Residents from the capital city, Nairobi also came armed with their concerns, including the elephant in the room- BBI report and unemployment.
A Narok resident residing in Nairobi said: "Kuna mambo yanastahili kurekebishwa katika BBI (The BBI document needs some changes). Lawmakers numbers in Parliament should be reduced, we have no need for more," he said.