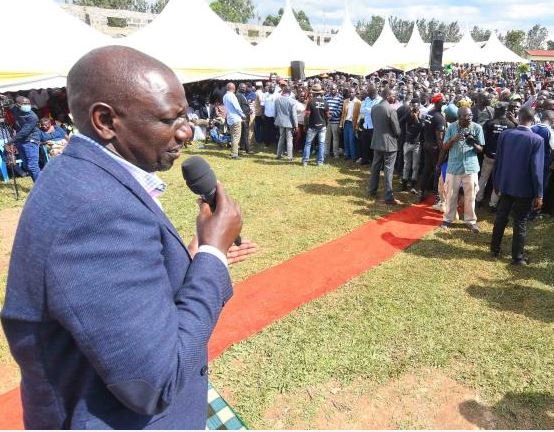 AfricaPress-Kenya: There is no way to hide Deputy President William Ruto's reservations about the Building Bridges Initiative (BBI) document.
During the BBI launch at Bomas of Kenya in November 2019, Ruto's body language and demeanour exposed the inner turmoil and made clear the misgivings that he had over the document even before he had uttered a word.
Ruto (pictured) sat at his usual spot beside President Uhuru Kenyatta but was at the edge of his seat, leaning as far away from the Head of State as he could.
While President Kenyatta was jaunty, laughing almost nonchalantly and slapping his thighs at a joke that Suna MP Junet Mohamed made, Ruto's expression was dark and searching, like a man out of place. He did not find anything funny in Junet making fun of his predicament at Jubilee Party.
Moments earlier, his ally, Elgeyo Marakwet Senator Kipchumba Murkomen, was booed for going against the script at the event and speaking against a perceived sidelining of leaders with anti-BBI sentiments.
The programme, which was being run by Junet, had expressly left out speakers who were assumed to be sceptical of the document.
"This programme has been skewed to leave other people with different opinions from saying what they want to say…," Murkomen said. He broke off mid-sentence as boos and jeers from the crowd rose.
When he rose to speak, Ruto recognized the bravery of Uhuru and ODM leader Raila Odinga in bringing the country to a table of conversation.
His concern, however, was that the document could be used to create positions and to share power among the political elite. "We must be careful that this process is not hijacked by the political class," Ruto said.
Since then, the DP has been portrayed as the quintessential antagonist of the BBI drive.
Yet today Ruto finds himself in the same position he was on November 26, as he considers his dilemma: to attend the launch and be at the centre-stage of a play he is not part of, or fail to attend altogether and give credence to those marking him out as the villain.
Ruto's aversion to BBI has only grown since the final report was released last Wednesday.
By last evening, it had not been established whether the DP will be at Bomas. Ruto's deputy director of communications Emmanuel Talam said the DP's office had not received an invitation to attend the event.
Invitations sent
By last evening, invitations had been sent out to delegates who were asked to confirm their attendance to the BBI Steering Committe Secretariat. The invitations were being sent out through the Ministry of Interior.?
After attending a funds drive at St Joseph Our Lady of Assumption Catholic Church at Idangalasia in Matungu Constituency, Kakamega County, Ruto took about half an hour to address residents who had crowded in the church.
Initially, Ruto seemed to dwell on what he termed as the clampdown on the freedom of worship; a reaction after police outlawed some of his church meetings due to security and Covid-19 concerns.
But he closed his address by giving his take on the BBI debate, saying it had failed to promote inclusivity.
He stressed that the document addressed issues that only concerned leaders.
"In my respectful submission, issues that concern millions of Kenyans locked out by poverty and unemployment should be given priority over issues that concern leaders and the power they want to share," he said.
Part of Ruto's distaste for the BBI has to do with former Prime Minister Raila Odinga and the 'nobody can stop reggae' approach that Raila and other BBI proponents have adopted.
"I want to tell those who are saying nobody can stop reggae that they have to give us a break and give this nation a chance to be able to discuss issues…there is a God in heaven, you and your reggae might be shocked," said Ruto.
Yesterday, leaders who accompanied the DP described the report as self-centred, only favouring the powerful.
Politician Johnstone Muthama said Kenyans should stand up and reject the report since it had no genuine interest for millions of Kenyans.
"We don't want to gamble or mislead Kenyans into supporting a report that will create five positions for few people and then leave millions to suffer," said Muthama.
Kiharu MP Ndindi Nyoro said BBI was meant for a few people who will enjoy the posts of prime minster and two deputies while leaving out millions of Kenyans.
Welcoming imperialism
"We are welcoming back imperialism in this nation. We will be killing advances made in many parts like the Judiciary and the Independent Electoral and Boundaries Commission," said Nyoro.
Kikuyu MP Kimani Ichung'wa said the report had betrayed the interest of Kenyans who wanted to know how their lives will be uplifted.
"Some of the report recommendations are purely aimed at benefiting a few. Coffee, tea, and sugarcane farmers have been left out, said Ichung'wa.
Mumias East MP Benjamin Washiali, who hosted the DP, said the report was divisive.