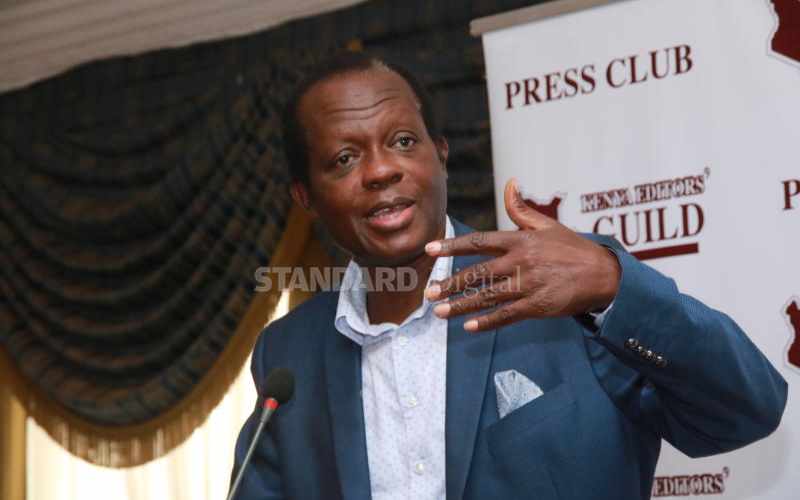 AfricaPress-Kenya: The Jubilee Party has no plans to impeach Deputy President William Ruto, secretary general Raphael Tuju has said.
Mr Tuju explained that at no time had the party held a meeting to discuss or plan the ouster of Dr Ruto, whose allies have hinted at ditching the ruling party for United Democratic Alliance.
Tuju was reacting to reports that Lugari MP Ayub Savula planned to table an impeachment Motion against the DP in Parliament.
The ANC lawmaker had claimed that the impeachment Motion has the blessing of President Uhuru Kenyatta and ODM leader Raila Odinga.
Tuju said if there was a plan to push for such a Motion, Jubilee would have rallied members to back it.
"So far those are just speculations. There is no such Motion. It has not been discussed within the party. If there was such a discussion it would have been communicated to all members," said Tuju.
At the same time, MPs allied to the DP have dared their opponents to bring on the impeachment Motion when Parliament resumes tomorrow.
Hold a meeting
The MPs said the DP enjoyed massive support in the National Assembly and Senate, and that it would be an embarrassment for the President and ODM leader to sanction such a Motion.
Ruto is today expected to hold a meeting with MPs allied to him ahead of the resumption of regular sittings by the two Houses. At least 150 lawmakers are set to attend the meeting.
The latest political clash pitting allies of Uhuru and Raila on one side against the DP's has been triggered by an impeachment Motion plan being fronted by the Musalia Mudavadi-led ANC through deputy party leader, Mr Savula.
The Lugari MP yesterday claimed there were ongoing talks involving Jubilee vice chair David Murathe and National Assembly Majority Whip Emmanuel Wangwe to convince MPs – who signed for the ouster of former Majority Leader Aden Duale – to support the DP's impeachment.
At least 126 MPs signed in support of Duale's ouster last year. Savula's impeachment plan requires at least a third of the MPs (117) to have the Motion tabled, and two-thirds (233) to have it passed.
"This is a collective process; we are ready to oust him from that position. We are coordinating with Wangwe and Murathe if the 126 MPs can agree to have their signatures used to support the Motion," said Savula.
He has cited alleged corruption scandal, disrespecting the President and class incitement war among Kenyans as some of the grounds for impeaching the DP.
But Ruto allies have termed plans to use past signatures to initiate the process fraudulent, and dared their opponents to "bring it on".
Soy MP Caleb Kositany said the impeachment threat was a hallmark of political desperation by their detractors while terming it mission impossible.
"Let them bring it on. That is how desperate they have become. They should know that the real impeachment will be at the ballot," said Mr Kositany.
"They will need at least 233 MPs in support of the Motion. It is impossible. Maybe those sponsoring it are out to make some money. I don't know who they are trying to scare. We are not scarred. We are ready for it," he added.
Kimilili MP Didmus Barasa said Ruto had the support of at least 150 lawmakers, making it impossible to raise the required number for the Motion to sail through.
"We are meeting tomorrow (today). I am in charge of mobilising members. We have at least 150 MPs on our side. Then we are also sure of winning more members should they bring on the Motion," said Barasa.
He said it would be a fraud to use signatures that were used to remove Duale from the House leadership.
Disown the signatures
"You cannot pick signatures used for other things and purport to have the support of the members. The law allows them to disown the signatures on the floor. Those are busy bodies seeking relevance. How do you claim that you would use signatures used in Duale ouster? That is fraud" he said.
Duale dared Savula to make good his threat and table the impeachment Motion for debate and approval for subsequent transmission to the Senate.
He scoffed at Savula's purported signatures, saying the process was a very serious business not reserved for his likes.
"The procedure of removal of the DP is anchored in Article 145 of the Constitution and it's a serious business. It is not a birthday cake for the likes of Savula. There are three grounds; gross violation of the Constitution and national and international law, and gross misconduct," said Duale.
The Garissa Township MP said Savula must raise a third of the requisite number from the 349 MPs and another two thirds (233) to approve the same.
"This is something that can only be pulled off by an MP, who is a patron like me for the ASAL region with over 105 MPs, to impeach the President or the DP. Savula should stop executing this impeachment in social joints. I dare him to table this matter on Tuesday in the House if he is man enough," said Mr Duale.
Rallied support
Raila is reported to have rallied support of his party through a number of MPs who accompanied him to Turkana, but the move backfired based on the conditions attached, including having a Jubilee MP sponsor the Motion and full proof plan to succeed.
Yesterday, some Raila allies declined to comment on the matter, saying the party would soon convene a Parliamentary Group meeting to discuss its agenda for the Fifth Session of Parliament.
ODM secretary general Edwin Sifuna said once the party was done with the consultative meeting set to take place today in Kisumu, it would convene a Parliamentary Group meeting to discuss its agenda.
Raila has convened a consultative meeting with religious and political leaders, as well as professionals from his Nyanza backyard.
The meeting is aimed at rallying Kisumu, Siaya, Homa Bay and Migori counties to back the Constitution of Kenya (Amendment) Bill, 2020. Siaya County Assembly has since endorsed the document.
"You are hereby notified of a consultative meeting bringing together elected leaders, council of elders, professionals and business people in the four counties to be held on Monday at Ciala Resort, chaired by Party Leader," stated Sifuna in a letter addressed to governors, MPs, MCAs and the ODM coordinating committees of the four counties.