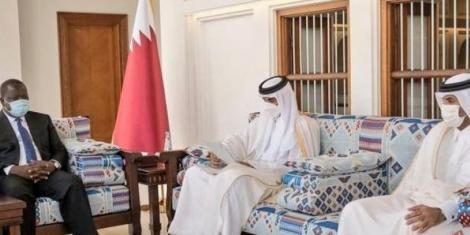 AfricaPress-Kenya: President Uhuru Kenyatta sent Interior CS Fred Matiang'i on a special trip to Qatar where he met with various leaders to discuss issues affecting the two nations.
During the visit on Wednesday, March 17, the Cabinet Secretary delivered a message by the Head of State to His Highness Sheikh Tamim bin Hamad Al-Thani, touching on ways of supporting and developing bilateral relations.
Matiang'i also held talks with the Prime Minister and Minister for Interior of the State of Qatar Sheikh Khalid Bin Khalifa Bin Abdulaziz Al-Thani at his Office in Doha.
"We held fruitful deliberations and concluded an agreement on deeper security and collaboration between our two nations," he divulged.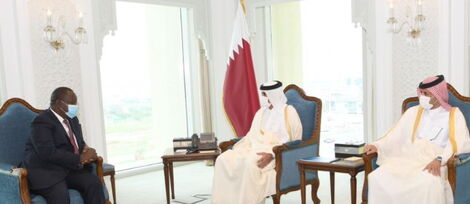 Interior CS Fred Matiang'i (left) with Qatar Prime Minister Sheikh Khalid Bin Khalifa Bin Abdulaziz Al-Thani, in Doha on March 16, 2021.
CS Matiang'i also pursued modalities of easing VISA restrictions for Kenyans travelling to Qatar in the wake of the Covid-19 pandemic
"The meeting also paved way for further engagements on matters of mutual national interest such as labour, agriculture and trade," he divulged.
The trip comes weeks after the CS was deployed to the United Arab Emirates (UAE) where he met with the country leaders
"The focus of their bilateral discussions were closer security sector collaboration between the UAE and Kenya. The duo also discussed the possible easing of VISA restrictions for Kenyans travelling to the UAE in the wake of the COVID 19 pandemic," the Interior Ministry announced in February 2021.
Matiang'i was elevated to chair the Cabinet Committee on Projects and Programmes Implementation in Kenyatta's second term in office where he oversees the implementation of the Big four agenda.
Part of his duties includes leveraging on strategic international partnerships to see to the success of the government projects.
In his new role, Matiang'i oversees a key committee on the implementation of development programmes, whose membership includes all Cabinet secretaries, the Attorney General and Head of the Public Service.
In March 2020, the head of state sent him to meet Ethiopia Prime Minister Abiy Ahmed in Addis Ababa, Ethiopia. Matiang'i led a delegation that negotiated and handled the diplomatic row between Kenya and Somalia.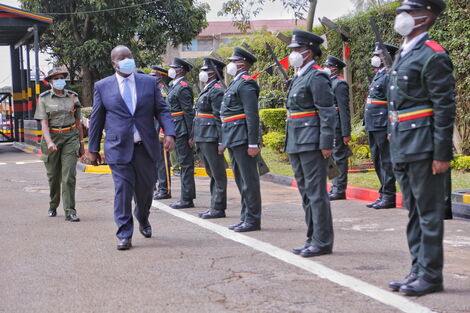 Interior CS Fred Matiang'i inspects a parade during the official opening of 161 cadet officers' training in Ruiru on Thursday, December 10, 2020