AfricaPress-Kenya: The decision by Parliament to go into recess until May 5, hinged on President Uhuru Kenyatta's decision to initiate a partial lockdown has placed the BBI referendum proposal at risk.
Members will now be expected to attend and participate in the virtual meetings of committees from their offices within Parliament Buildings as envisaged in the Parliamentary Powers and Privileges  ACT, 2017.
According to BBI proponents, the initial plan was to have the Bill presented in the House on April 5,  followed by 60 days of campaigning culminating in a referendum.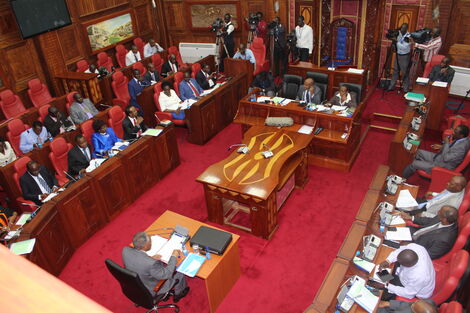 An image of the Senate committee in parliament in a past proceeding.
The proposal to create 70 new constituencies enshrined within the BBI report is time sensitive making the current lockdown and challenges arising from the same a major threat to its viability.
Article 89(2) of the constitution states, "Any review of names and boundaries of constituencies shall be completed at least 12 months before a General Election of MPs,"
"If a General Election is to be held within 12 months after the completion of a review by the commission, the new boundaries shall not take effect for the purposes of that election".
This implies that any review that goes beyond August 8, is invalid in regards to the 2022 General Election.
With the BBI report also proposing an overhaul of the Independent and Electoral Commission (IEBC), Chairperson Wafula Chebukati recently stated that the entire process would need 2 years to implement.
"The only document we have on boundary review is the Andrew Ligale report issued on March 4, 2012," he stated while speaking to the Justice and Legal Affairs Committee.
In February 2021, the Treasury allocated Ksh 84.5 million to finance the selection of commissioners to fill vacant posts at the IEBC.
Notably, some of the ODM Party leaders including Kakamega Governor Wycliffe Oparanya have come out and stated that passing the BBI proposal was now impossible.
In January 2021, BBI secretariat co-chairman Junet Mohamed accused the IEBC of being part of the scheme that is sabotaging the BBI referendum push.