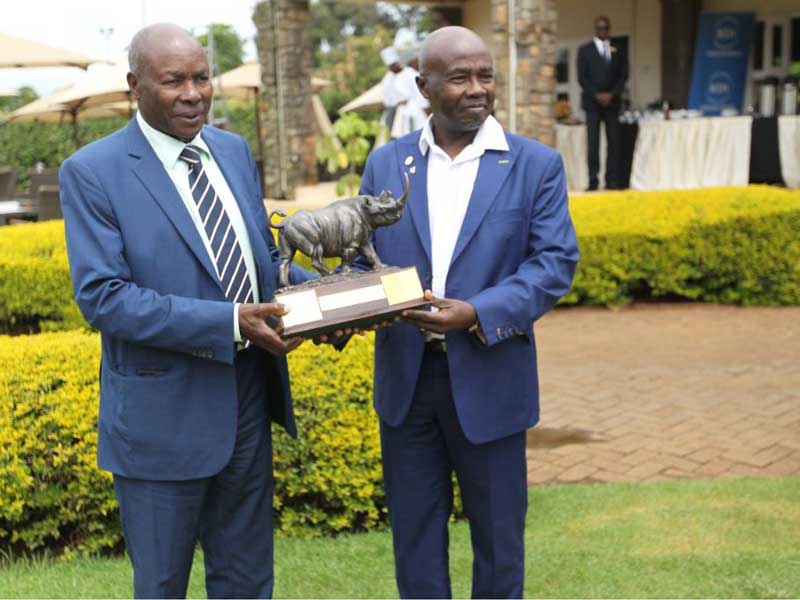 The Standard Group PLC officially announced its partnership with the Kenya Open Golf Limited (KOGL) at the Karen Country Club on Monday, March 2.
KOGL director Patrick Obath allayed fears that the Magical Kenya Open might be interrupted because of the Coronavirus (COVID-19) that has disrupted sports events around the globe.
According to Obath, no golfers from China or Italy are expected at the much-anticipated event.
However, Obath pointed out that none of the Kenyan golfers has been barred from participating in the mouth-watering tournament set for March 12 to 15.
"Two countries have been banned because of Coronavirus (COVID-19) and we assure you that we have taken the necessary measures to ensure there are no risks involved. None of our players (Kenyans) has been barred coming in," said Obath.
Growing fears concerning the global spread of COVID-19 have begun to manifest into official postponement or cancellation sporting of events in Italy and China, countries which usually experience large gatherings during football matches.
Sports leagues and organisers are weighing whether to take immediate action or wait-and-see approaches.
What is known at this point is that these entities are acknowledging that the disease presents some sort of threat to their plans.
Peter Kanyago, the KOGL Chair on his part thanked the Standard Group for supporting the golf tournament which will be broadcasted free to all Kenyans.
"Let me thank Standard Group for partnering with us for the second year. The tournament will be broadcast live to all Kenyans for free. We shall have 144 players and 8 will be Kenyans who will be competing for the Sh20 million prize money," Kanyago stated.
Broadcast Managing Director (Standard Group) Joe Munene noted more Kenyans will be able to understand the sport better and the tournament will be a platform to identify new talents.
"I want to thank Kenya Open chairman for the work put in behind Kenya Open. We are pleased to sponsor the event again. The Magical Kenya Open speaks for itself. It brings the spotlight to Kenya as a destination. Golf is a beautiful game and we are happy to demystify this game so that more people understand it and also participate in it. We are looking forward to a better edition. We wish Kenyans all the best," said Munene.
Eight local golf professionals will fly the Kenyan flag high during the Kenya Open.
This year, Standard Group PLC with its flagship brand, KTN News, are the official broadcast partners, with The Standard newspaper expected to provide riveting coverage of the show-stopper golf tournament in Africa as well.
The 2019 edition of the Magical Kenya Open saw Italy's Guido Migliozzi claim bragging rights – becoming the second successive Italian to win it after Lorenzo Gagli in 2018.