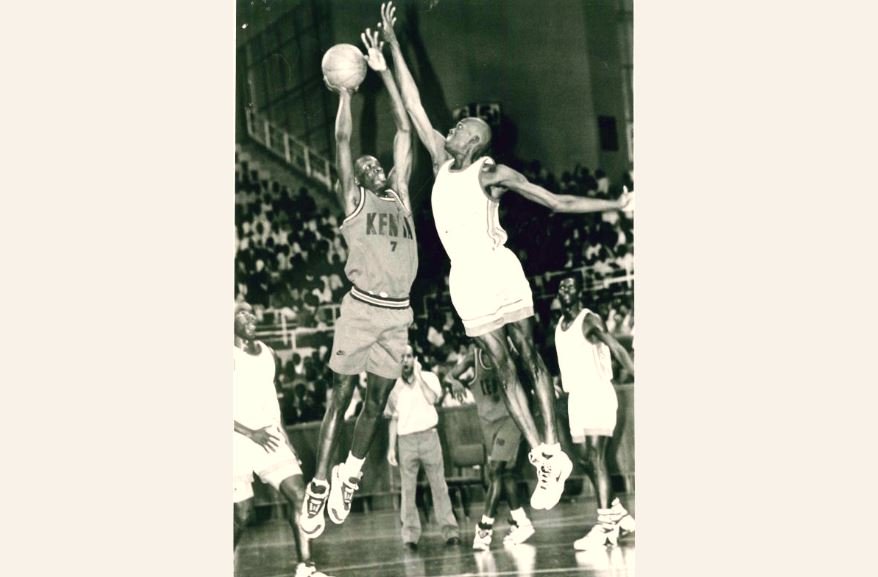 Author: Washington Onyango
AfricaPress-Kenya: Basketball was not a popular game in Kenya during the late 20th century as it was in the United States of America.
The NBA in the 1980s and 1990s had raked up a massive following around the world with basketball legend Michael Jordan at his prime.
Back in Kenya, the national men's basketball team was trying to make a huge leap in the sport which was introduced in the country in the 1960s before becoming a member of the International Basketball Federation (FIBA).
After several trials, Kenya under the tutelage of the late coach Obel Ochino qualified for the FIBA Africa Championship (now AfroBasket) in 1985.
Despite boasting of good players in Sam 'Big' Omolle, Jafred Amungule, Ronnie Owino and Philip Yugi, Kenya finished last in the 12 team tournament that was hosted in Abidjan, Ivory Coast after losing all its six matches.
Four years later after missing to qualify for the 1987 tournament, Kenya under coach George Ogolla made a comeback to the 1989 African tournament played in Luanda, Angola but again finished last after losing all four matches.
History in making
Previously, the national team were riding high from their fourth-place finish in their debutant appearance at the 1987 Africa Games which they qualified to take part as hosts.
However, Kenya shocked the continent after finishing fourth in the 1993 championship hosted in Nairobi in perhaps what remains to be the greatest Kenya team ever to be assembled.
Even though the current national team, Kenya Morans' second-place finish at the inaugural FIBA AfroCan tournament and winning the FIBA Zone five championship in Uganda stands out, it will be unfair to compare the two.
The main reason being Kenya Morans was playing in tournaments where only two players playing outside their country's league can be drafted.
Despite making historic victories against highly-fancied North Africa teams like Egypt, Tunisia and Morocco as well as Africa's top nation Nigeria, it is fair to note that those teams did not field their strongest teams.
This brings us to the 1993 team coached by Philip Yugi and captained by the current Kenya national women's basketball coach Ronnie Owino.
Despite eight players making their debut at the championship, Kenya registered an improvement in performance compared to their last two results.
Led by Owino, the players comprised of Sam Omolle, George Owino, Elvis Ochieng, Ben Wanjara, Ronnie Swaka, Robert Omolle, Peter Kiganya, Peter Otieno, Alex Aluga and Anthony Ojukwu.
In the management team, Philip Yugi was the head coach, the late Ali Daab as a physiotherapist, the late Fred Ogutu as Team Manager and Jack Arum as a statistician.
With Wanjara, captain Owino, Swaka, Aluga, Owino and Omolle as starters, Kenya thrashed Algeria 80-50 in game one.
However, missing key players in three-point specialist Lawi Odera and sharpshooting guard Fred Omondi came weighing down their shoulders after struggling in game two which they lost 98-58 to Senegal.
Even dunks by the then red-hot youngster Wanjara could not propel Kenya against Mali in game three as they lost 78-70.
Despite the two losses, Kenya qualified for the semi-finals by virtue of better point difference of -11 in group A which comprised of Senegal (70), Kenya (-11), Algeria(-41) and Mali (-18).
In the semis, Kenya were knocked out by an Egyptian side which outplayed them 79-56.
They again played Senegal in the third-place playoffs and lost 90-76 to finish fourth in the tournament behind eventual winners Angola, Egypt and Senegal.
Reaching the semi-finals the 1993 FIBA Africa Championship is the best the national team has done to date which the then captain Owino said was not an easy feat to achieve. To date, Kenya has never qualified for another championship.
Owino, currently the head coach of the Kenya national women's basketball team, said that it was experience and youth that propelled the team.
"We had eight youthful players joining in to bolster the experience in the team and it worked," Owino said during an interview with Standard Sports.
"The players were exceptional and we had very good players in all departments. Good guards with long-range shooting skills and effective post players who dominate in the paint."
After the 1993 championship, Arum, Kiganya, Wanjara, Ochieng, Aluga, Sakwa and Kimani got scholarships to study and play basketball in the USA.
Kenya will be attempting to make a comeback to the Afrobasket Championship they have missed for 27 years but must first beat Angola, Senegal, and Mozambique to qualify for Fiba AfroBasket finals set for Rwanda next August.