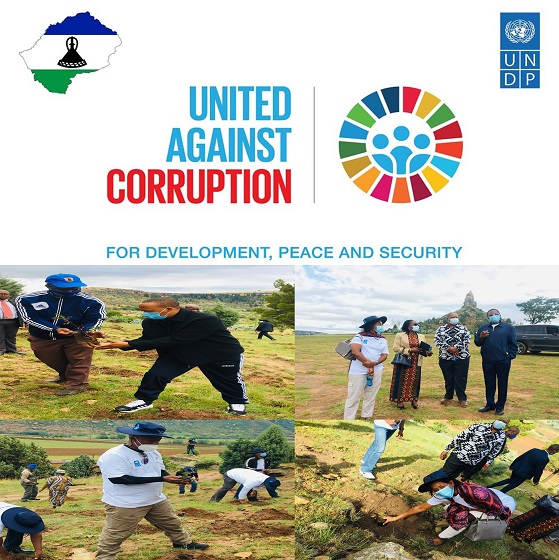 The Directorate on Corruption and Economic Offenses (DCEO) in partnership with the United Nations Development Program (UNDP) commemorated the international Anti-corruption day at Qilaoane in Thaba-Bosiu on Wednesday.
The International Anti-corruption day theme for this year is 'United Against Corruption.' This theme focuses on corruption as one of the biggest obstacles to achieving the Sustainable Development Goals (SDGs).
Speaking at this event, the Deputy Prime Minister, Mr. Mathibeli Mokhothu said this day is marked globally by the United Nations so to raise awareness against corruption, which he said seems to be affecting the development of countries.
Mr. Mokhothu said Lesotho does not stand back on this matter as it is amongst the countries affected most by corruption, saying it has pulled the country down in all forms of growth.
He said it is only when Basotho unite as a nation that issues of corruption can be attended to and put to a stop while also joining hands and aligning with the Sustainable Development Goals for the betterment of Basotho.
Also speaking was the Minister of Law and Justice, Prof. Nqosa Mahao who expressed concern that the rate of grand corruption in this country seems to be very high, saying this pulls down the economy of the country.
Prof. Mahao said lack of infrastructure development such as roads, electricity, access to clean water is an indication of a country with a high corruption rate and shows how citizens of such a country can be affected by corruption.
He disclosed that for this financial year, about M25 million was allocated to DCEO to boost its operations and enhance the fight against corruption in the country.
On behalf of UNDP, Mrs. Betty Wabunoha said UNDP has been working with DCEO since 2014 in realising the need to integrate anti-corruption strategies.
Mrs. Wabunoha said Lesotho appears at the highest rankings of the least developed countries affected high by corruption, saying this is an indication that there is still a need to implement and strengthen strategies to fight corruption.
The commemoration commenced with a tree planting activity led by the Deputy Prime Minister at Qiloane.
International Anti-corruption Day is observed annually on 9 December.