Africa-Press – Lesotho. The Minister of Foreign Affairs and Internal Relations has on behalf of the government of Lesotho appreciated the support that the People's Republic of China has been offering to the country for the longest time.
Minister Lejone Mpotjoane said the People's Republic of China has over the years provided financial and technical assistance to Lesotho through grants, loans and aid packages aimed at supporting economic development and poverty reduction in Lesotho.
He said it has also steadily proven itself as one of the major cooperating partners in Lesotho's advancement and this contribution is widely acknowledged by all Basotho, saying this is evidenced especially in the fields of capacity building where Lesotho annually receives offers of scholarship for both long and short term training in the People's Republic of China in the fields of agriculture and food security and other fields.
The Minister added that the People's Republic of China has been involved in several development projects in Lesotho under the framework of the Forum on China-Africa Cooperation (FOCAC) and under this principled initiative, the Kingdom of Lesotho has benefitted significantly through infrastructure projects such as construction of Maseru District Hospital and Eye Clinic, the Mpiti – Sehlabathebe Road and the recently handed over Ramarothole Solar Energy Power Plant.
He noted that other projects in the pipeline under this plan are the Jincao Mushroom Cultivation, Agricultural Storage Logistics Infrastructure and Forensic Laboratory to mention a few.
He stressed that Lesotho will display a great commitment to strengthening the ties that bind the two nations together on shared aspirations for peace, stability and prosperity driving them to collaborate closely on regional and international issues, fostering understanding and building bridges of cooperation. Mr.
Mpotjoane further acknowledged the valuable assistance rendered to Lesotho during the height of the COVID–19 pandemic when the Government of the People's Republic of China dispatched medical experts to exchange anti-epidemic technologies and experience, adding that Lesotho also received anti-COVID-19 medication and equipment in several batches under the Material Assistance Project.
The Chinese Embassy in Lesotho commemorated the 74th anniversary of the founding of the People's Republic of China at the event held in Maseru on Wednesday.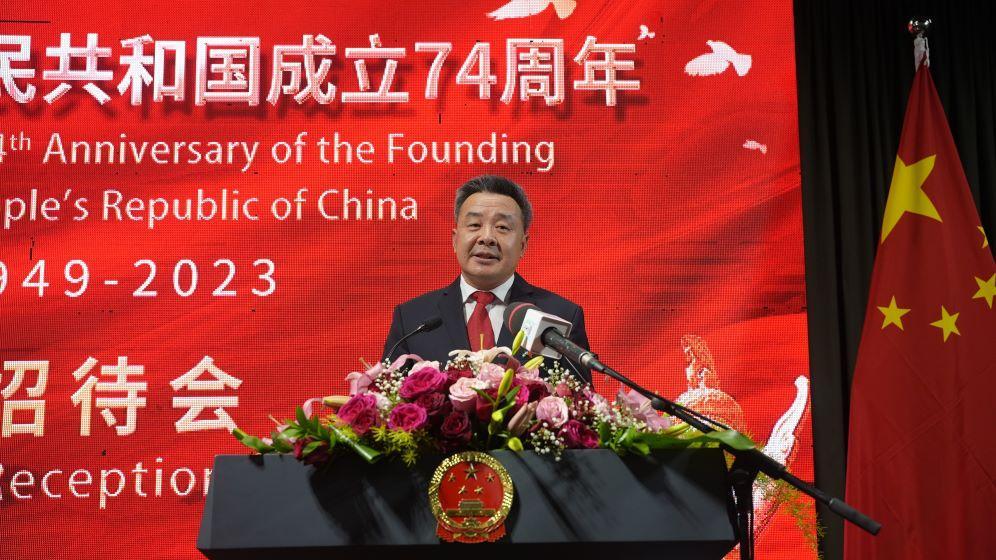 For More News And Analysis About Lesotho Follow Africa-Press